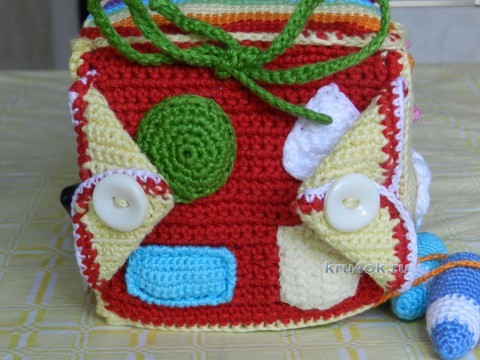 Developing the cube-rattle - work Helena. Knitted from 100% cotton. Each party will be interesting baby. Within the foam.

1. Side "Winter". All of us, winter means New year, Christmas tree and gifts. On this face of the cube there are 2 bag "with gifts". Rustling the orange and blue with the beans inside.
2. A face of a cube with doors on the cord, the kid will learn stringing, buttoning, get acquainted with geometric shapes. In the blue rectangle is hidden beans and white triangle rustling. Green lace stays. The buttons are sewn on securely.
3. Face cube with wood allows you to move the berries.
4. Rainbow face has a pocket with Velcro, and inside the slider, you can easily move the button.
5. Knitted pencils can be folded over the net, they are securely sewn to the face of the cube.
6. Pink side tactile. Her sewn button, beads of different shapes, Velcro (hard side), buttons, metal ring.
Inside the cube rattles beads and beads. The size of each face 10х10см. Was knitting for her little daughter. All the materials are safe, the cube can be washed and ironed. And, very important, chew and bite.
See more options developing cubes from our site:
Post author