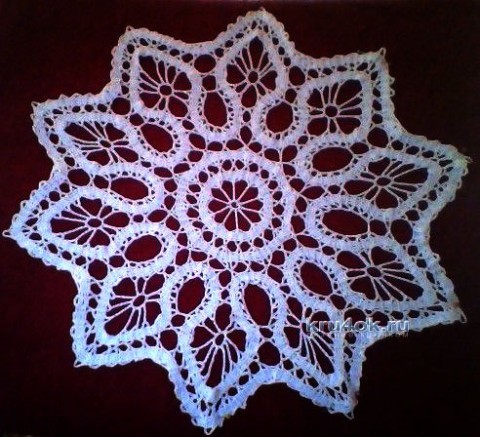 One of the last works. Thread PELICAN. Thread left 50g. Briggsae lace knitting for the first time, I wonder. Try tatting.
This doily is called curly vjushkoj. Work Albina Petrovna.
"Miluska" - stretching endlessly flexible narrow tape - polotnyanko, to build a picture of the pattern strips, smoothly flowing from one form to another.
Miluska is one of the most characteristic motifs of lace pragskogo pattern. In crochet the lace milushka is also the main motif of many lace patterns.
If adjacent arms straight sections of the braid in a wide wilewski consistently connect article of different heights, for example. ст2н., St.1N.. TBN.. then the part of viloski lie with a inclination to each other. Then miluska from a simple wide transformed into a figure. For education viluchiti curly bow braid can be connected in other ways.
For sample connect the chain 9 handles tape under the scheme. Provarite 17 rows of braid, with the inner side of the bend 8 arms.
Scheme knitting patterns doilies:
Post author