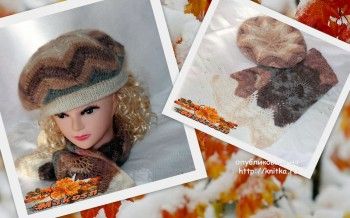 Set "AUTUMN LEAF" linked from threads Alize knitting needles No. 3.
Description for 56-57 size type-80пет. (rim), the crown respectively - 160 pet. For added volume you can add more loops at the beginning of vyvazhivanija of the crown.
For the 58-60 size type - 90 pet. (rim), the crown - 180 pet.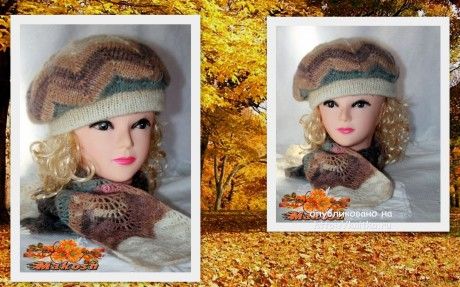 Latest beret knit on 10 wedges. Example calculation - 90пет - band, 180 pet. - the crown. Rapport wedge- *from 1 pet.-3 pet., 7 persons., 3 pet. together, 7 persons.*, repeat 9 more times.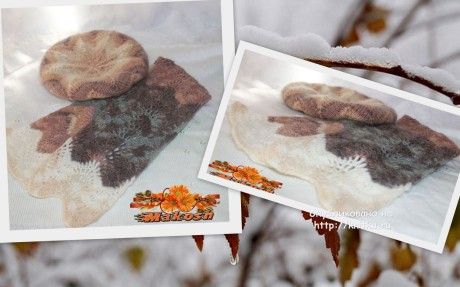 The height of the crown - 7 or 8cm and start obuvki - in one row only knit for 3 pet. together, and at the points where you have to purl from 1 pet. - 3петли, knit exactly i.e. don't add it, so in a row we have reduced the number of loops in a series of 20 pet. Then smooth the lines are finished just all loops facial.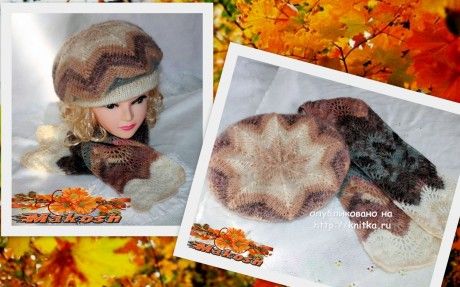 Next row - pattern where are finished and 3пет. together and of 1 pet. - 3 pet. Then again is smooth a number. Following a number of obuvki. If we assume that we have a repeat pattern "zigzag" in height by two rows (one row pattern, one row exactly), the twist we are talking every 5-volume series. The bottom is closed, when the spokes remains of hinges 20.
Post author