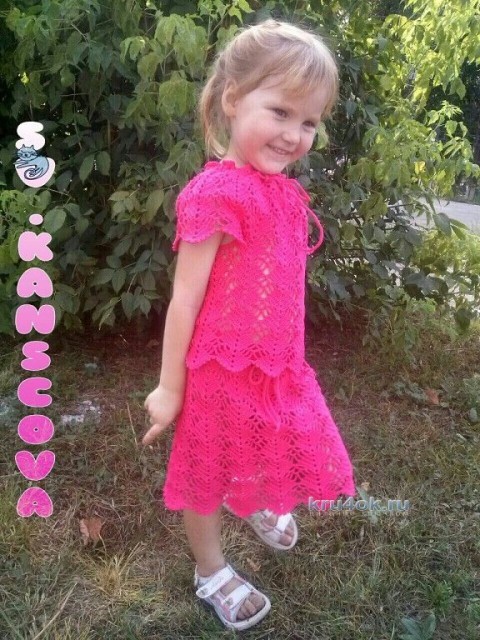 Good evening! So, I decided to boast its another author's work - set the color of mallow, and at the same time and share the description of the skirts from this kit!
The set was knit for one of my favorite daughters -- of Masha, which she so loved that the fight was given only in the wash.
Despite the yardage of the yarn I am using is a kit is very gentle, airy and light! Even in the heat of more than 40 child felt great!!!
The scheme was found separate part on the Internet.
DESCRIPTION
Need any yarn and any hook! I've been knitting cotton yarn "Lily" Trinity factory ( 3.5-4 years left 4 Hank), hook #3
To start typing a chain of VP desired length, but multiples of 12 loops!!! I gained 144п. Lock in a circle and knit according to the scheme. The scheme includes only 2 repeats in height gain 1 VP. So on knit rapport, but with 5 VP! Then knit it to the desired length, and in the last row of repeats on every even (2, 4, 6, 8) CLO vivasyan Pico.
The waistband of the skirt. By typesetting edge knit waistband: 1ряд - SC, 2 the number -SSN, 3 row - 1ССН, 1 EP, 4, a number - SSN, row 5 - SC, number of 6 - tying "crayfish step." Knit the lace and insert it into the stitches for 3 rows.
Skirt ready!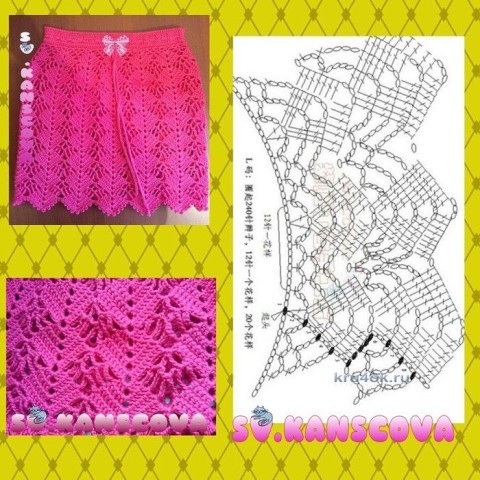 Post author