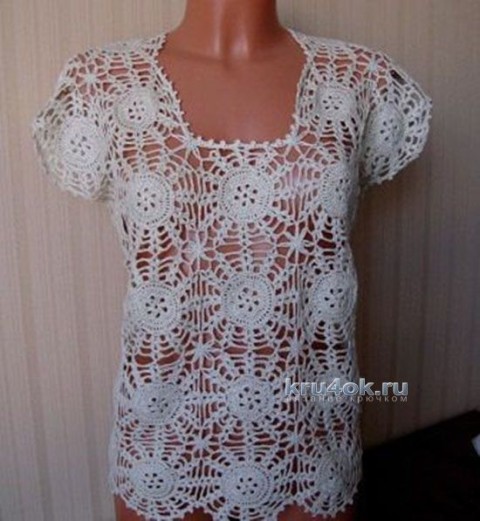 Blouse from the Alliance, flax and bamboo. Size 52-54, yarn consumption of about 300 grams. Tied for yourself.
1 row in thread the ring 3 of the column 1 nakida with a common vertex 4 hanging loops, etc. (6 tips);
2 a number of - arcs of EP 4 knit 7 St without nakida;
3 row - columns without nakida knit in 7 columns with 1 nakida;
4 the number in columns 1 columns nakida knit 1 nakida;
row - 3 air loop, a column without nakida etc, ( need to get 12 arches out of the stitches;
5 a number of - arcs of three of the stitches knit two columns C1 nakida, 1 air loop, 2 column with nakida C1, 3 air loop, etc.
6 a row - in the arc of one air loop between the two columns with nakida 1, knit 2 column with nakida 1, two air loops, two columns with one nakida, 3 air loop, etc.
7th row - as 6th row,knit where only 2 air loop, knit 3, and where knit 3 - knit 4.
the void is filled with the tune of 5 loops back and forth at the joints (better to do it from the inside).
Post author