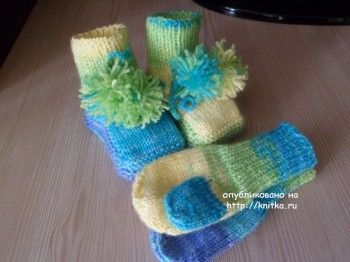 Booties. Yarn acrylic 100%, spokes № 3,5.
Recruited 40 loops. Distribute on 4 needles, with 10 loops each. Elastic 1x1 knit 16 rows. 17th row: you must complete the holes for the lace as follows: yo, 2 together for the front, and so on until the end of the row (Fig.1). Knit 3 rows of elastic.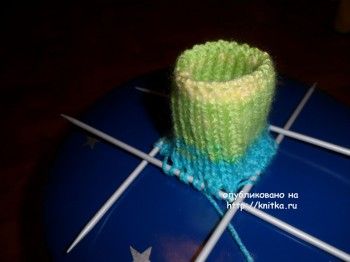 Next one spoke with a neighboring building 4 loops on the needle 14 of the loops. Defer work on three needles and begin to knit the upper part of the foot, the front surface (front row - all front loop, purl rows - purl all loops). Thus knit 18 rows.
Recruit only the edges that bound the upper part of the booties for 10 loops on each side (in a time when the dialing loop, the number of knit face). Distributed loops on the spokes: the spokes of the front and rear parts 14 of the loops on the side - to 16 loops (Fig.2).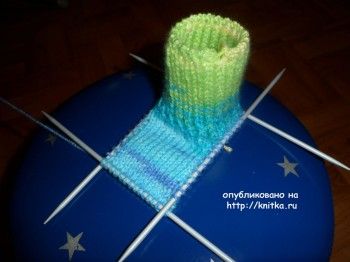 Then knit 9 rows:
1, 3, 5, 7, 9 rows: purl all loops
2, 4, 6, 8 ranks: all loops of the front (Fig.3, 4).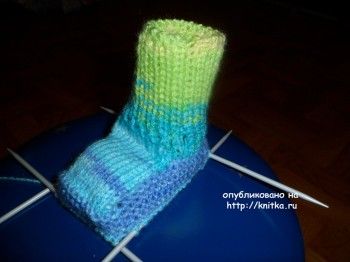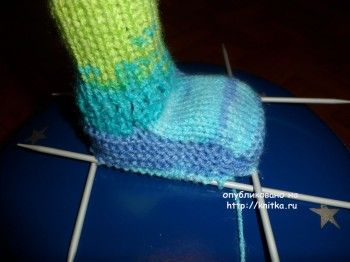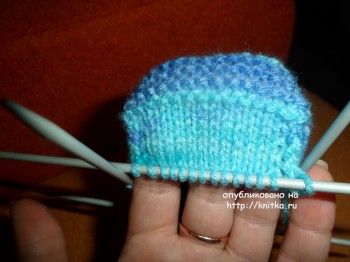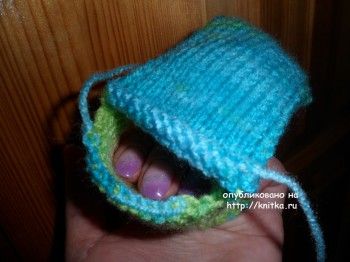 Then proceed to knitting the foot. Sole fit on the 14 loops of the front part of the method of promazyvanija at the end of each row in one loop of the loops of the sock and one loop of the loops of the side part one front loop. Ie 13 loops are finished according to the pattern, and 14-th loop are finished with hinge left side work the front loop. In the front ranks of the last loop promazyvaetsya along the front and in the back - back loop (Fig.5).
Knit 32 rows. Close hinges on two spokes (Fig.6) running suture. In holes insert ribbon, ribbon, who as you want.
Post author