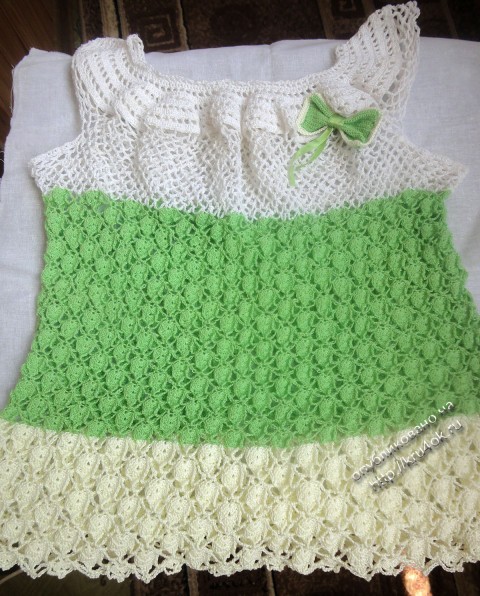 Knitted tunic for the scheme. Since the thread I have a thinner iris, the product has a very different, smaller grapes and more rows to knit. We have a quite another thing.

Age - 5 years.
Start with a set of loops. I scored 170 loops.
Second row knit 1 St. s. n,1 V. p,1st. S. n,1. V. p. through a single article SN of the first row and so on.
Third row knit without of increases in every article of S. N. previous row and in each square of the previous row one B. S. article.
The fourth row do the extension, knit 1st. S. N.,2nd V. p., noise in the lower
row 1st. S. n and knit the next St. S. B. from the previous row 1st. C.
n, make the squares not 1. V. loop, and of the two, due to this
there is an extension.
Fifth happy knit in each St. S. n St. s. one n in each square two tbsp. SN
Sixth row, knit as the fourth
The seventh as the fifth
Like eighth fourth
The ninth as the fifth
The only knitting the last rows for free or you can take the hook size a little bigger.
Next, knit a grid of 5 V. p. in two St. s. n. previous row
fall evenly on columns with nakida previous row, and not on
those that we had in the boxes, so it was smoothly and beautifully.
Knit mesh as much as you need. I have for example 5 rows. Share
the product on the front and back. On the sleeves I left for 20 arches of V. loops.
The lower repeat pattern is 4 arcs. I have 12 of rapport, then you have 48 arches.
First row: art. b. B.,5 V. p. or in our case we have the first series will not be as we already are these arcs
Second row: one arc *4 tbsp. s. n,2B. p.,4st. S. n...5V. p. connect with the next arc...5V. p. connect with sledushi the arc*, poweram from* and to*. Third row: knit these *4st. S. B. together, then 4 St. S. B. in the interval from VP Signum row, next 4st. S. B. are finished together again... 5V. p. connect with the arc of the previous row...5V. p. joined with another arc... knit 5V. p* and poweram from* and to*.
Fourth row knit *5V. p,4st. S. B. together, those that were in the bottom row, then 5. V. p. connected with arc, then in the next arc, knit 4st. S. n,2B. p, 4st. S. n. connected with arc* , poweram from *and to* .
Post author