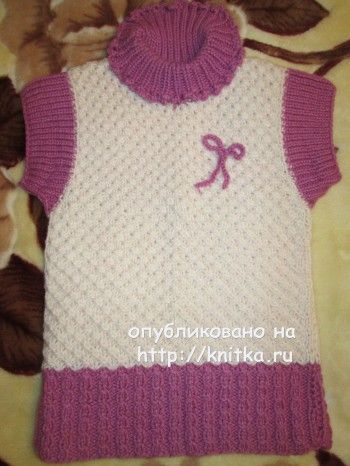 The vest is knitted from the "marketplace" threads of the pattern "asterisk", collar tied with a hook.
The vest is knitted No. 5, length 53 cm, bust 76 cm, bottom is connected by rubber band 2 x 2 (2 purl, 2 front by knitting the front loop swap, knit the second, the first before work, then knit first), sleeves & neckline bound with elastic band 1 x 1.
For the symmetry of the figure, the third row is knit as follows: edging, 3 face, of three three, *front, three three* 3 the front edge.
Pattern "asterisk"
1st row-3 loops — 3, 1 facial, etc.;
2nd and all even rows — purl all loops;
3rd row- 2 front (3 loops — 3, 1 front);
5th row-repeat pattern.
Set: edge + (4 x number of reports) + the front + of the edge.
Post author