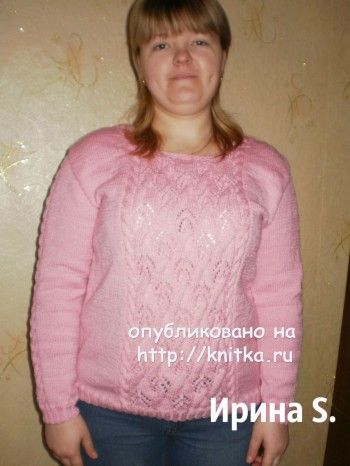 Here's a sweater I knitted for navestock. Used yarn "Arnart super Merino" 100 gr-320M. Yarn consumption to 600 grams, size 50.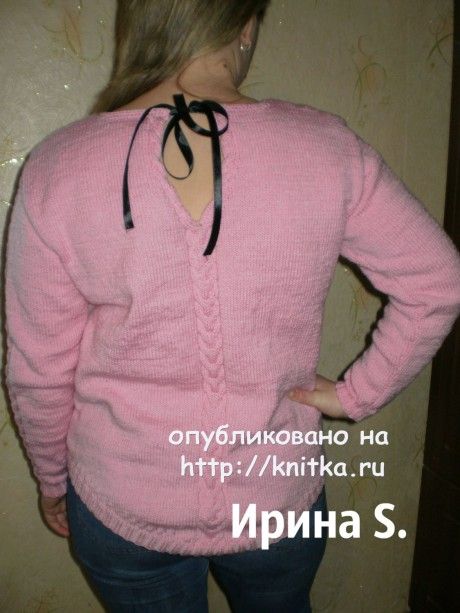 Description of the process of knitting sweaters
Back: 52-54cm. scored 138 loops,14 R.(see 4) elastic knit 2x2, then knit the front stitch in the middle and braid 3x3 with a right turn and spit 3x3 with a left turn, knit 116 rows (36 cm). Then after 40 cm=130p. closed for armholes on both sides 1P-5P., 1P-2P, 2P-1P. through 55 cm backrest divided into 2 halves and both sides finish separately after 67п. for armholes neck closed 21п., 1P-2P. and 2P-1P.
Before: 52-54cm. recruited and knit on 149 pet. the front figure for the scheme, on the sides of the front surface. Using 40 cm on both sides for armholes close 1P-5P., 1P-2P., 2P-1P., through 51 cm for the neck closed average 31P., to round the close with the inner edge of each 2-MP. 1х3п, 2х1п. Remaining on each side of the shoulder loops close at the height of the backrest.
Sleeves: elastic knit on 58 pet., then in the last row is uniformly added 10 pet.=68п. Pattern of the braid, as on the back. For bevels were added in each 6-m p. 1P. on both sides. So knit 47 see then for the armhole closed on both sides 1P.х4п, then 2P. in each even-numbered row.
Did the Assembly side and shoulder seams. The neck of the tied crochet 2 rows with prostovisa.
The scheme of knitting sweaters: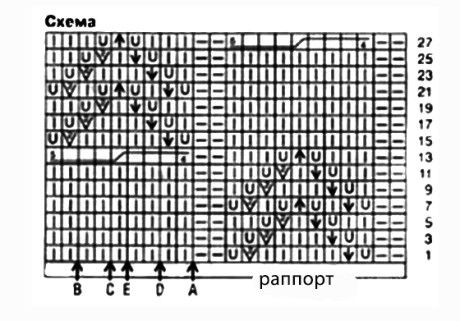 Post author