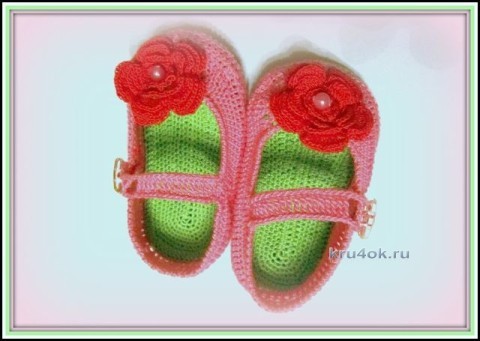 Booties-shoes to crochet with mercerized cotton 283м/50gr. Work Yana from Kharkov.
Booties are fixed on the leg with buttons, the clasp is adjustable in size. Booties are tied tightly and keep a good shape. Convenient for babies up to a year, walking in wheelchairs. Foot length 11 cm at age 8 months. The sole is connected according to the scheme:
Continue to knit around the circumference of the sole, the Shoe to create the decrease and addition of columns without nakida. As decoration used flower with layered petals: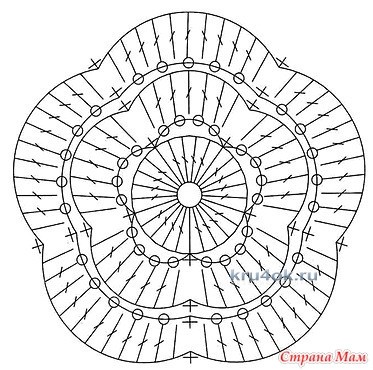 Description crochet flower crochet:
In the initial ring knit 3 air lift loop and 19 columns with nakida, then a ring pull and secure the thread, make a connecting loop in the 3rd air. the lift loop. Then cut and fasten the thread for knitting the second row or do 2 air. loop and then start knitting the 2nd row, promazyvaya again *in the initial ring art. b/n, the arc of the 4 air.loops, art. b/n in the primary ring through 4 of the column of the first row, repeat 5 times, finish the series connecting loop in the first column. 3rd row: knit the petals promazyvaya of arches above polytypic, 5 St s/n, Poustovit, St b/n between the arches. 4th row: knit arcs of 5 air loops, clipping of article. b/n by the stem St. b/n the previous row. 5th row: knit the petals of the arches: Poustovit, 9 St s/n, Poustovit, St b/n between the arches.
Post author