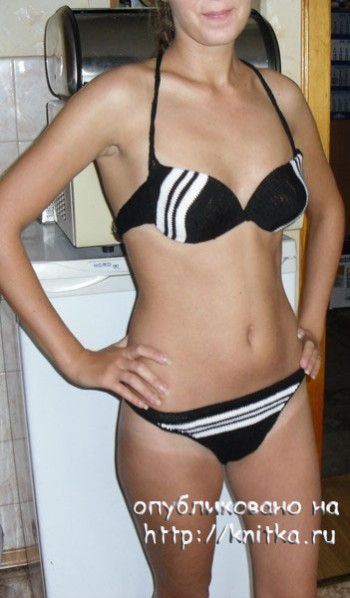 The swimsuit took 100 grams of black yarn and 50 gr white.
Density knitting swimsuit: 25P. x 40R=10 X10 cm
Left Cup:
scored spokes black yarn 23 p and knit stitch facial. Provatas 30 rows from the beginning of work on the left edge gained 25P, knitted 6 rows of black yarn, then 4 R white yarn, 2 rows of black yarn, 2 rows white yarn, 2 rows of black yarn, 4 rows with the white yarn, 13 rows of black yarn and closed all the loops.
The right Cup fit left mirror. On each side of the bodice scored 16 loops and tied straps for the buckles on the back. Crochet knitted ties that tie behind the neck. The pants are made of 2 triangles with white stripes. Top panties tied crochet polostevichi and wasila of thin rubber.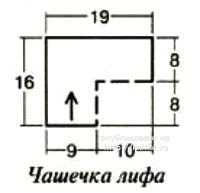 The description of the swimsuit, see the link
A selection of knitting swimwear
Post author