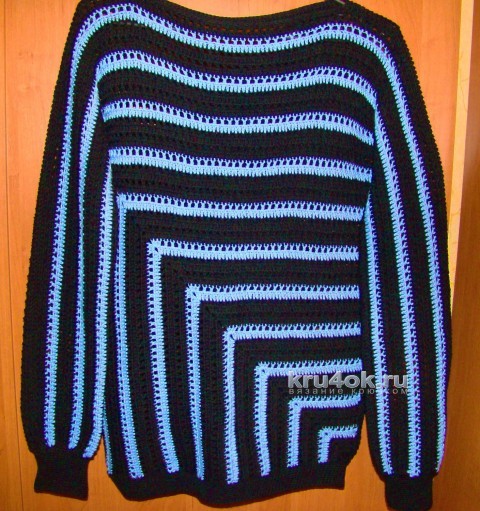 Pullover for myself and a tunic for my mom to crochet the same pattern. The Work Of Eugene Rudenko.
Pullover began to knit by the scheme from the corner, every 2 rows, changed the thread to another color, making the extension up to half of the chest, so knitted 2 squares that are stitched on the sides, it turned out the fabric. Then moved on to the sleeves and the upper part of the pullover. To do this, I attached both sides of the side seams of the chain of the air. loops to the desired length of the sleeve and continue to knit to the height of the openings. Tied first the front then the back, then sewed the fabric, leaving the neck.
Then tied the bottom of the sleeves and pullover columns without nakida, turned cuffs and elastic hem.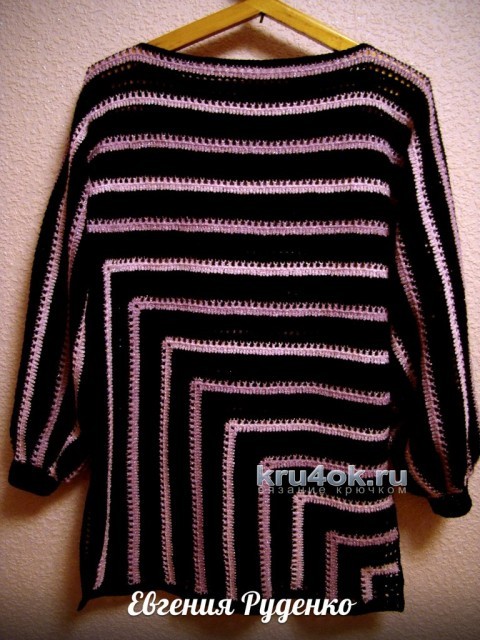 Tunic for mom linked on the same principle, just as the bust from mother's, side of the square is also greater, so the fabric went longer. So it was decided to make the tunic. When stitching side seams made small incisions. Armhole was also larger, and accordingly, the width of the sleeves were big, so when knitting cuffs I did the bends on the black stripes, it turned out the folds. Pullover knitted from yarn Alize Sonny,a consumption of 400 gr., tunic from yarn Alize, Puffy fine 400 gr.(black), Arnart gold (rose) 100 g.
Post author