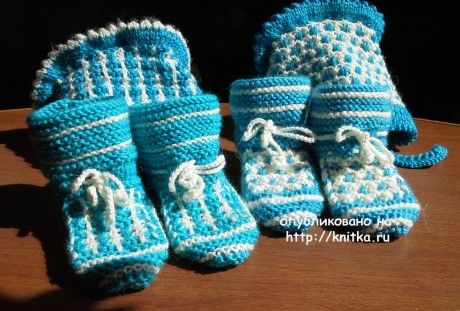 Knitted sets as a gift two malchonka twins.
Description of the knitting of caps in my previous work ("knitting cap") and booties knitting:
just scored 64 loops ( 24 p. at the sides, middle, 14P, 2 columns) . 64 loops knit garter viscous 4 rows of blue thread, then 2 rows with white thread hosiery knitting, 4 rows with the blue yarn and 2 rows white. The principle of knitting bootees on the principle knitting of the heel in a sock. After 8 rows garter knit knit: 1 edge, 24p. garter viscous, 13 loops pattern (the pattern can be knit any), 14th povazay front loop together with the next loop, work unfold and knit in pattern loops 13, 14 p. the next loop povazay along the reverse loop. Work again unfold and as well knit as above described 14 loops, etc. In the middle always fit 14 loops. Provatas desired length to "lift the foot", knit up to the desired height of the boot.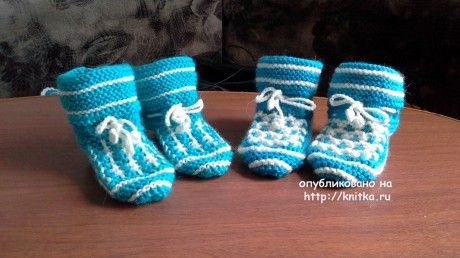 Post author