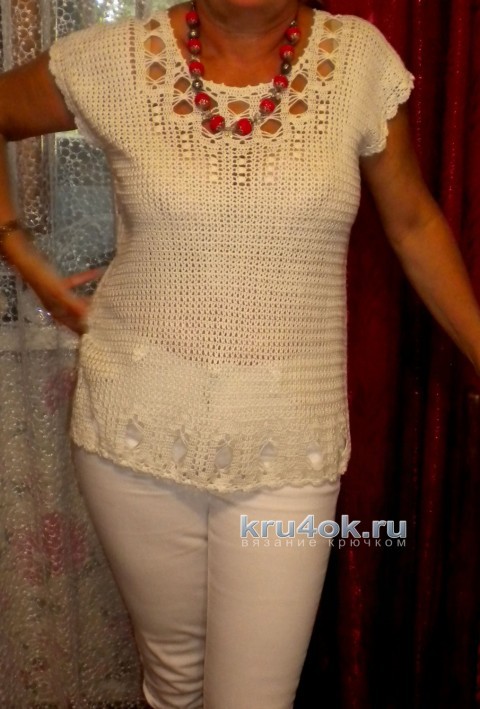 Summer blouse. Knitting on a previously known scheme. This blouse has changed the bottom and sides. It was very interesting. Thread ALIZE(Forever). The jacket ушло370гр. Hook 1.3.
Description of blouse from the magazine:
Size 44. You will need: 300 g x/cotton yarn; hook №2,5.
Make pattern detail blouse natural size and knit detail by referring to the pattern.
Before. Start knitting according to the scheme 23 b, which is on the chain of VP of obviously greater length provarite the first row, which should be 12 holes of 2 VP. Next knit according to the scheme. Linking openwork pattern, proverite 8. "tick" and start knitting pattern on the neckline of the front according to the scheme 23.
Provatas R. 8, start knitting the armholes, which output from the work on both sides for 3 "ticks" in the same row, and then take away one "tick" for as long as the pattern on the neckline will not stay 4 "the show". Then finish the knit according to the scheme. Further Adwaita bottom Lacy part under the scheme.
Back. Knit as before, not vymazyvaja openwork pattern on the neckline. When work 22 p. start knitting openwork pattern under the scheme 23. Further Adwaita the lower part of the detail of the scheme 23 b.
The fit and finish. Sew shoulder and side seams. Tie the arm openings and the neck SC with Pico.
The scheme of knitting sweaters: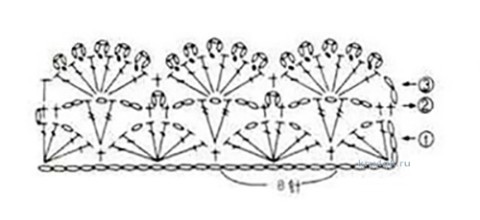 Post author