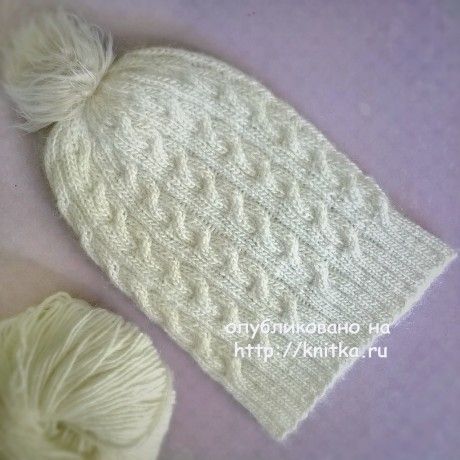 Soft and warm beanie from your favorite yarn GAZZAL Galla. Her dokazyvaetsya mittens and go to delight and warm your a wonderful girl! Size 52-54.
Knit on circular needles.
The basic pattern beanie knitted elastic 2*2.
Rapport pattern 12 loops. After the elastic band, I have it 6 cm, start the basic pattern: 1 row: 2 facial, 2 purl, cross 8 loops to the right as follows: remove the 4 loops on auxiliary needle at work, 2 facial, 2 purl, loops with auxiliary needles to stitches as they lie on the spoke, i.e., 2 facial, 2 purl , then again 2 facial, 2 purl. Rows 2-5 knit the way you lie loop on the needle, facial-facial, purl - purl. The same elastic 2*2 turns. 6th row: same as 1st, i.e. cross 8 loops. Continue knitting in pattern until desired length, then gradually and evenly to diminish the loop, promazyvaya 2 together. The remaining 6 loops to pull. Sew the pompon.
Beanie is ready!
Post author