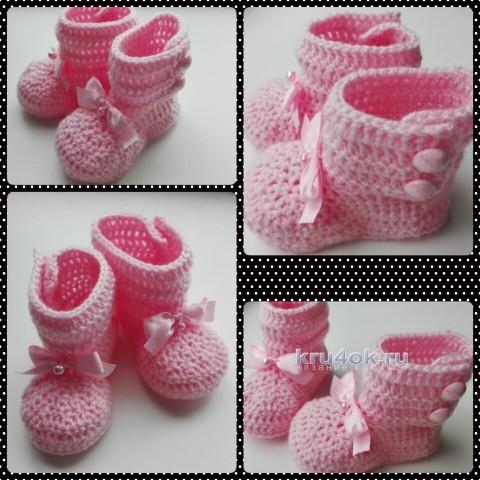 Booties for girls on the foot 10 cm Knit to order for the holiday. They used "Pehorka children's new" pale pink 100% acrylic pink ribbon to make the bow, 2 pink pearl beads and pink pearl buttons 4 PCs.
The soles were done according to the scheme: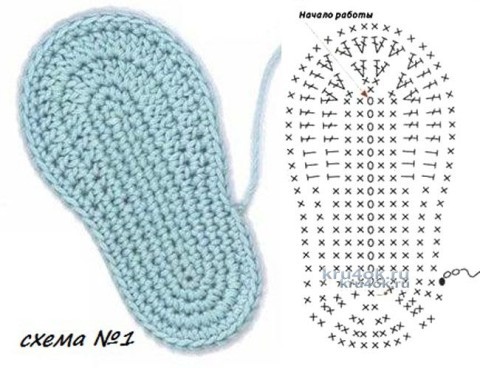 Next 2 rows lifting PRS.
Toe: 1st row: folding a length in half's booty, counted in both directions for 14 loops (28 total loops on the toe). Mark the beginning and the end of the row marker or the other thread. Knit from a rise of the beginning of the column to the toe. From the marker start knitting the toe connecting two loops of the previous row and column with nakida. In all, we have 14 of the connecting columns with nakida. Next are finished before the end of the column.
2nd row: start SC, and repeat the vamp as in the first row SSN for 2 loops in one vertex (7 total) to end of row SC.
3rd row: SC start at the toe make for 2 to one vertex of SSN, SSN 3 and SSN again, 2 to one vertex (in total we did 5 peaks on the toe). Are finished before the end of the row SC.
4th row: the number of transition in the rise. We knit a SC. Next, knit the ankle booties from lifting, knit 4 rows back and forth, SSN, extending it to the required number of loops for the buttons. In the 1st and 3ьем row in the extended part do the opening for the holes under the button. Here are the fine, soft booties turned out:)
Post author