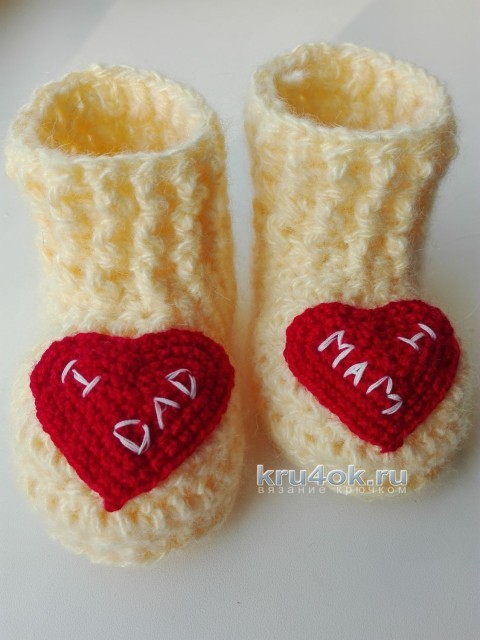 Booties on the foot 9.5 cm. For work used a wool blend yarn yellow and red "yarn from Troitsk" series acacia 100% acrylic, crochet hook 2.5 and 1.25. White sewing thread with a needle.
Foot knit according to the scheme: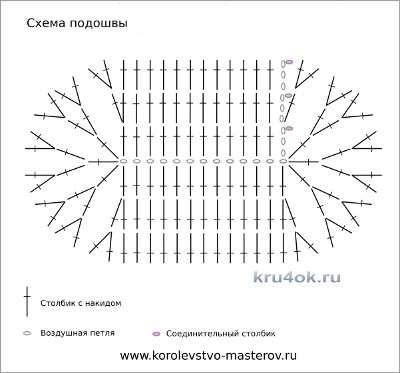 Next 2 rows of SSN on the rise.
Toe: 1st row: folding a length in half's booty, counted in both directions for 14 loops (28 total loops on the toe). Mark the beginning and the end of the row marker or the other thread. Knit from a rise of the beginning of the column to the toe. From the marker start knitting the toe connecting two loops of the previous row and column with nakida. In all, we have 14 of the connecting columns with nakida. Next are finished before the end of the column.
2nd row: start SC, and repeat the vamp as in the first row SSN for 2 loops in one vertex (7 total) to end of row SC.
3rd row: SC start at the toe make for 2 to one vertex of SSN, then the SSN 3 in one top and SSN again, 2 to one vertex (in total we did 3 peaks on the toe). Are finished before the end of the row SC.
4th row: the number of transition in the rise. We knit a SC. Next, knit the ankle booties 4 PRS of a curved (elastic). Red yarn crochet knit arbitrarily 1,25 2 heart, embroider on them the inscription and sewn to pinecam. These wonderful booties are ready:)
Post author