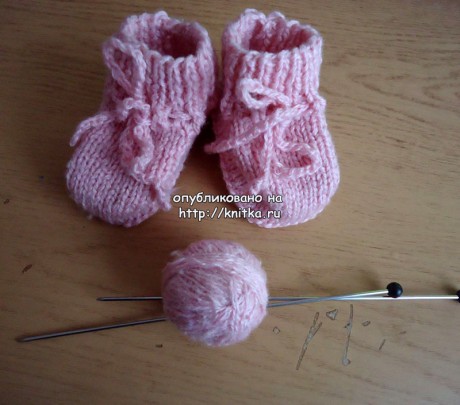 Knitted booties quickly, almost in one breath. Thread need 50 grams. For ribbons crocheted a chain the desired length.
Description bootees:
On the spokes of No. 4, to obtain 36 p. and bind 9 cm band. Continue knitting Central 12 p. persons. stitch for 6 cm and Then at the edge of this piece, up 8 points, combined with 12 items on each side = 52 p., bind 6 p. persons. waste, 1 p. Phi. Continue knitting persons. stitch, 2 p. Central scheduling, subtracting both sides from the set p. in each 2-m p. 3 times at 1 p. =40 n, and p. to close in pattern.
The second stocking to tie as well.
ASSEMBLY
To perform the stitches, considering that the top 2 cm are turning out. The finished socks to moisturize and allow to dry.
Post author