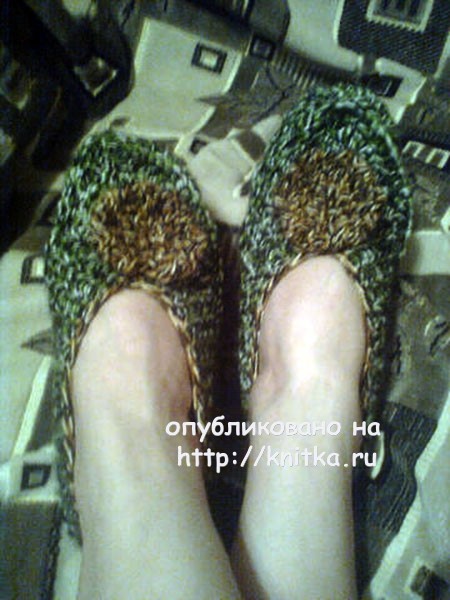 Very comfortable home shoes are offered for all masters. Requires a little more than 100 grams of yarn. You can make from the remnants of yarn. And nice and comfortable, and stylish! The decor was invented. Who loves you can increase crochet the top of the Shoe.
The Slippers description: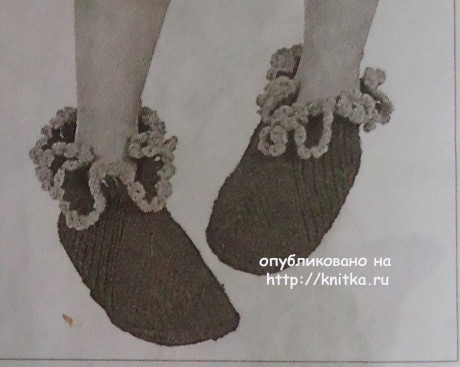 You will need: 100 g of a thick yarn (100% wool) yarn and a little peach color to finish, the hook number 3 and spokes № 3,5.
Top shoes made rubber band 1 x 1, the sole is knit in garter (all rows knit facial loops).
On the spokes dial 63 p. (32 cm) and purl 1 row elastic 1 x 1. Mark with colored thread the middle of the row (32 - 7 loop), it starts to centerline, from where you will need to do the addition.
Next knit elastic band 7x1, adding in the front ranks at one loop, both sides from the centerline (i.e., in every front row, there are 2 extra loops). Making the yo in the next row knit into the front, to be formed from nakida loop twisted (crossed loop).
This technique will make a subtle addition, not tightening the canvas. New loop to enter in the drawing gum 1x1. Centerline run on the front side of the front loops on the purl - purl. Add until, while on the back will be 85 loops. Blade height at this time should be 7-9 cm (back of Shoe).
After that, close up (very slightly) p. 46, others knit in pattern. At the beginning of the next row to close 5 PA, and the remaining 33 p. knit the front. This is the sole, with width of 7 cm Loop of the last row to close as little power as possible.
The rear part of the Shoe and to sew in the hole to sew the sole.
Post author