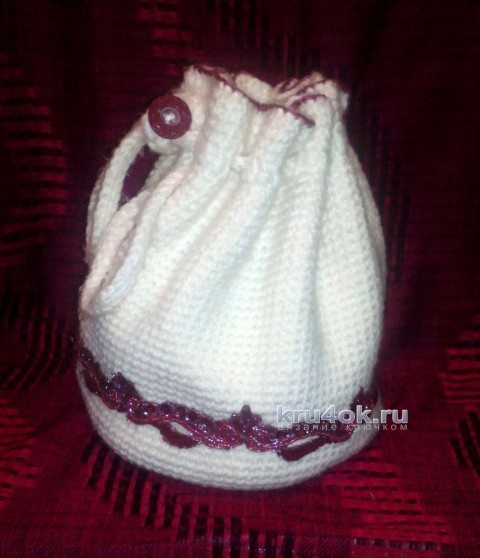 Handbag "White autumn". For jewelry you will need: a thick thread of white color, hook number 3 , finishing the ribbon with beading Burgundy, claret floss thread, sewing buttons , lining fabric, thread for sewing tape, padding and buttons.
Job description. Bag fit in a circle ,from the bottom up. To tie the bottom of the bag , type 5, V. p. and lock in a circle. Next knit according to the scheme of article b.N. Linking the circle with a diameter of 20 cm, stop the addition and tie the bag wall. Linking 20 cm in height art. b.n , do 1 row with holes for a cord - stick. 5 St. S. n *1, V. p. Next, associate art. b.n 3-4 cm tear off the thread. Should be a round bag. Sew the finishing tape. The edge of the bag tie art. b.n the front half-loop of the loops of the base thread floss. Tie the cord. Chain V. p 1m tie connecting loops. Insert the cord in the bag and connect the ends. Decorate the button.
Lining. Draw on the cardboard padding the pattern, transfer the pattern to the fabric, cut, stitch detail and sew neatly to the bag from the inside . Bag ready.
The scheme of knitting:

Post author