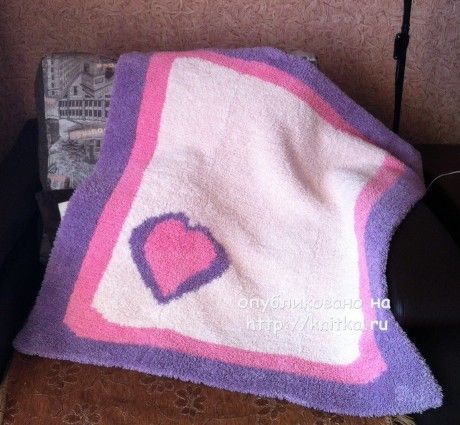 Hello everyone! Again I contacted plaid. This time the knitting needles No. 3. Because boucle and hook, in my opinion, were incompatible!
Knitting for his youngest daughter. Garter-knit - always knit the front loop, with the exception of the edge. A wonderful thing happened: in the crib, in the stroller, and as the envelope... didn't want to bother with extra long needles, and the knitted product of three vertical stripes. What later then sorry, no: the two-seam is almost not felt and stabilize the product, not allowing him to stretch. Each bar =42 p. Side=p. lilac 12+8P. pink+22p. pale pink. Up 22p. purple+16P. pink+192р. bednarova +16P. pink+22p. purple=268р.
Heart vymazal invented the scheme. The problem is the combination of two bands: the figure is divided into two parts, it was necessary to calculate how imperceptibly it be then for sewing. And all because of that pale pink was too little. In the end, the blanket weighs about 750 grams. went to him just over 15 skeins of yarn. Size 90х95см. Edge does not trimmed, because the thread boucle...
Post author