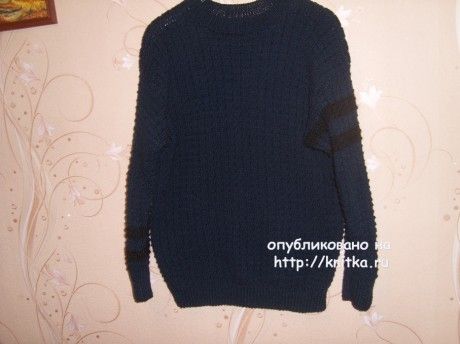 Jumper, size 48-50, the name of the yarn do not remember the composition 30% wool, 70% acrylic, 280 meters to 100 grams. Color dark blue. The spokes of 3,5 mm yarn Consumption of about 500 grams.
The pattern is simple, but in my opinion looks very good. Report 4 loops and 4 series. 1st row (front side) 3 loops facial, 1 wrong loop, the 2nd row (wrong side) in the picture 3rd row: as first 4th number: all loops of the front 5th row: begin again with the first.
Back gained 106 loops (104 + 2 edge), knit 7 cm elastic 1 × 1, then the main figure, 26 reports(it is convenient to consider) for the arm openings sleeveless closed for 8 loops and knit up another 14 reports, next to the neck blank out the middle hinge 20 and the curvature in each row closed 1 loop 4 times, and knit up 2 of the report. Total came out back length 42 report + elastic band.
Before: knit as back, only for the cutout closed loop sooner than on the back 2 of the report, i.e., the openings 12 of the reports.
Sleeve: scored 50 loop (48 loops +2 edge) , knit 7 cm elastic 1 × 1, then the basic pattern, adding uniformly in each loop the 6 series. 30 reports closed all the loops.
Assembly: we perform shoulder seams, sew sleeves, sewed the sides and sleeves. The neck 106 of the raised loops and elastic knit 1x1 4 cm and closed.
Post author