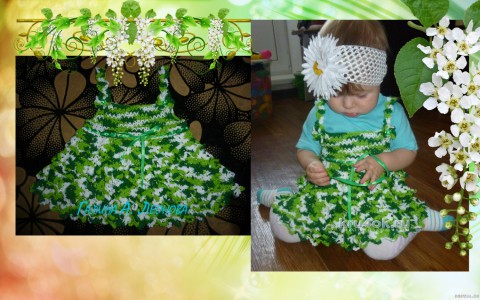 Summer sundress with ruffles. Materials: yarn Vita Coco print cotton, 100% mercerized cotton, 150g. Hook No. 2.
The yoke is knit according to scheme 1 separately, then close the circle and knit skirt from Olga Verenich.
First, the yoke is knit mesh. In the grid it is necessary to make uniform additions for expansion - every 7 (V. s/n and 2B.n.) vivasyan 2 tbsp. s/n from one loop to the next row without increases and so on. Then the mesh knit ruffles. First Ruche is attached immediately after the yoke and each of the next 7 rows of the grid. I knitted 4 rows of ruffles. And I've been knitting instead of article с2н. - St. p. 1N. Piping edging the brim fulfilled 1 tbsp. b/n. Straps, flowers knit.
Scheme knitting dress
Post author