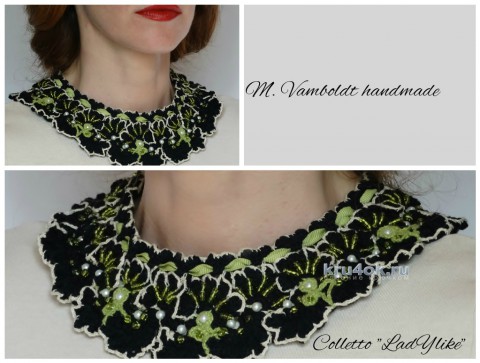 Work Margaritas. I saw a lot of interesting collars in different knitters. But the main question that I always ask myself before starting to knit — wearable this thing?
Very often I see very large, massive collars, which in everyday life look a little out of place. So I decided to make a small collar that well complements and updates the usual plain dress, blouse or simple t-shirt. It does not crease, does not fight, it can be removed and put in bag. This accessory has long been appearing in fashion shows of famous designers.
Some special schemes do not enough to measure neck circumference and knit by the scheme a tape lace (as pictured), or select any other sample from the Internet. When you get such looks from the flowers (for example, on my neck polutsvetnoy 32) tie loops of her air, pulling a bit on top - giving form of collar (neck circumference approximately like a horseshoe shape). That is, at the top of the collar needs to sit down, and the bottom to expand, as it needs to have a rounded shape.
Can tie several times to the collar to better hold the shape. Further, the UPPER part of tie bars with a single ( or double) stitches. These bars are needed in order to thread the tape. In principle, the collar is ready. But if you want to resemble a necklace, pick up some decorative threads, beads, pearls or whatever you want and they will first separate each petal around his hook decorative contrasting thread, and then embroidered each flower manually by a needle in the middle of a bead more, the edges of the smaller, in General , as will prompt the imagination! This part of the job is the most creative (and hard), choose threads and decor to your taste and you have a fashionable and beautiful accessory in a single copy.
The scheme of knitting:
Post author