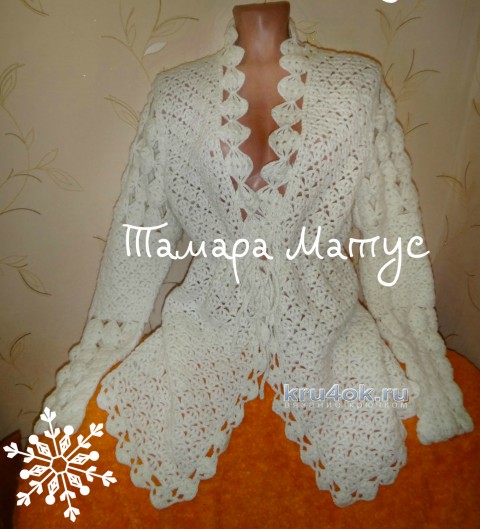 Cardigan "Pearl" is made of wool blend yarn crochet. Well suited to the cooler seasons. The length is just below mid-thigh. Sleeve long.
Description of the cardigan:
Size: 38.
You will need: 300 g of fine yarn (100% wool); hook № 2,5.
Attention! Make a pattern details in full size and knit, applying to the knitting pattern.
The backrest and shelves to tie the pattern of figure 1. Sleeves to start a knit pattern according to scheme 2, provatas 21 cm (5 rapport), go to the pattern on the
scheme 1, then, in 15 cm to dobesilate sleeve pattern according to scheme 2.
To sew the details. Tie one edge of the next article. s/n. Then tie the neck and sleeves, which bind 1 rapport pattern according to scheme 2.
Tie strings of different lengths, provyazat 2 p. art. s/n. To the inner edge sew the long tie (80 cm), and to the outer edge of the short (about 40 cm).
The scheme of knitting and pattern of the cardigan: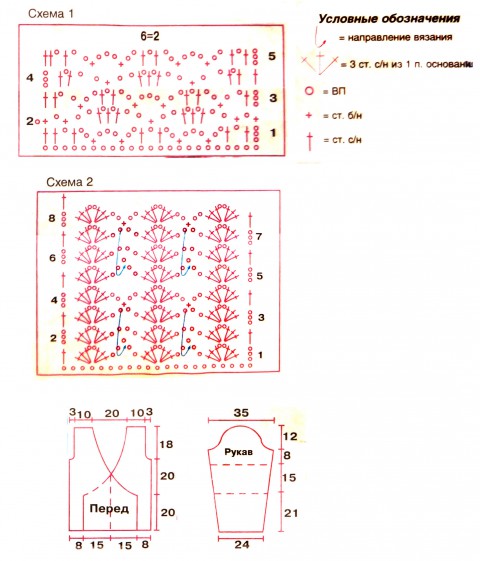 Post author