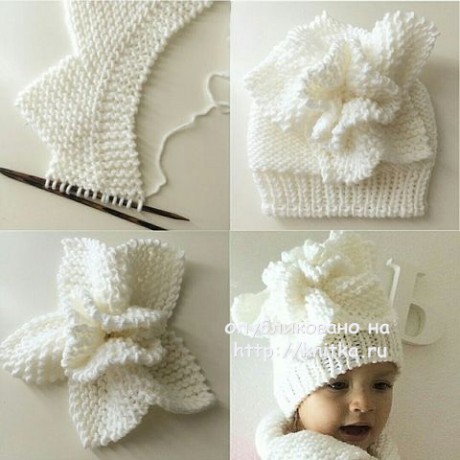 Hello! Will show you how to fit an interesting flower spokes. This flower I started knitting, when asked to help to understand how it fit.
At that moment I did not know who the author of the idea of such a lovely flower. Because the picture of the flower was easy to find online, but without a description and signature. And recently learned that the author of this flower - Olga. In the photo is her lovely granddaughter. Told me about this Olga herself, so now we know who gave us this creation)) I Have a flower associated spokes №3,5, yarn "Marilyn Nazar" (100gr/330m). You can knit, combining colors.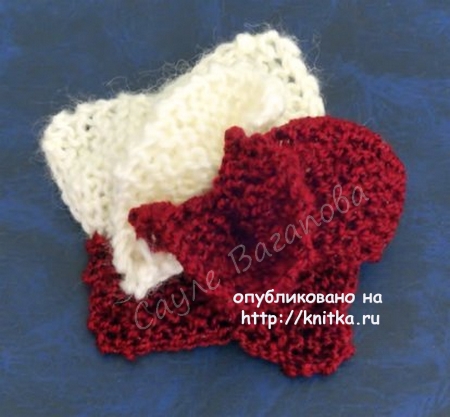 DESCRIPTION OF THE FLOWER
Knit direct and inverse series (ie, not round). Believe odd-numbered rows of front, even numbers the other. Crochet flower use the "garter binding" (i.e., all rows are knitted front loops), partial knitting. Knit flower one long strip (seen in the photo is the original). In the ribbon there must be five or six "teeth".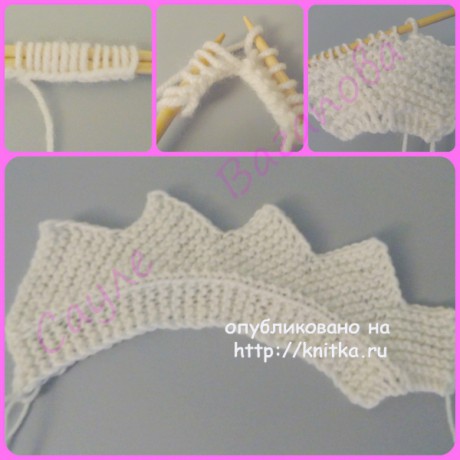 When the tape is fully connected, it is contractible, stretching out on the center thread. Due to this, it turns out lush flower, in which the "teeth" of it - the petals and the left straight edge is the center of the flower. Recruited 13 loops, of which the LEFT hinge 6 tally unchanged (it will be lush in the middle of the flower) and on the RIGHT are adding one loop in each of the front row. Due to the increases appear "teeth" of the future petals. Right add this: after the Central loop (she facial), do the addition and 1 loop in each row on the front side NEXT to the CENTRAL LOOP. Inside adding loop knit, crossed front, leaving no holes. The result will be the "petals" of the flower. When the number of loops reaches 19, right close seven loops - one petal is ready. Begin knitting the next. In General, in the course of knitting will become clear.
Linking five petals, close knit subtended flower in the middle, and all. Whom something is left unclear (as to bind the edges of the petals "ribs", etc.), please see step-by-step photos of MK here. I wish you all a pleasant knitting! Thank you Olga for such a beautiful flower! Sincerely, Saule Vagapova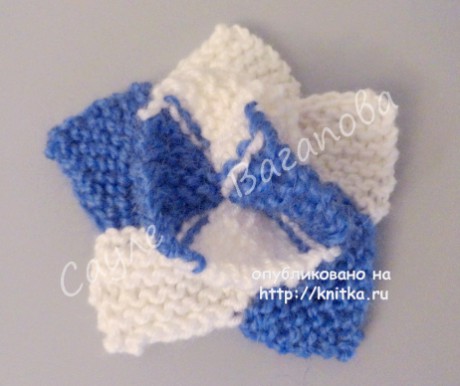 Post author