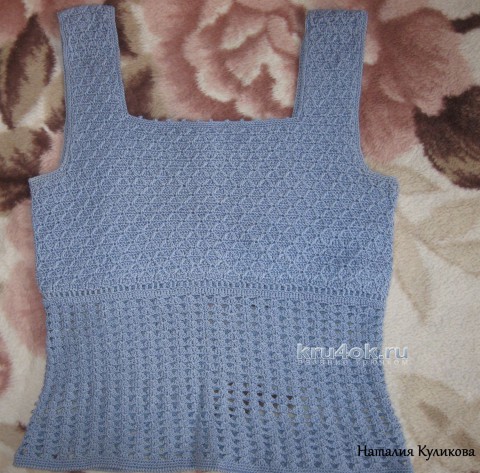 Summer tube top with "waffle" pattern.
Materials (size 44): mercerized cotton 150g, hook № 1,5.
Description of top:
Crochet a topic you will need to dial a chain of air loops, length adjustable for your size. The number of loops of the chain must be a multiple of 6. The chain closes in a ring. Top is knitted from the bottom up to the neckline armholes according to SCHEME 1. For the armholes I left at 6 cm with the left and right sides; the back and front are connected separately. The straps are also connected individually sewn on the shoulders. Cutouts on the chest and back can be done in different depths; I did the same. Peplum top-down connected from the beginning of knitting the upper part of a topic. I knit according to SCHEME 2, making a uniform addition of loops to expand the canvas. The straps, armholes and hem processed 3 rows of columns without nakida and "crayfish step"; neckline front tied columns without nakida with "Pico". Scheme and pattern with approximate dimensions is attached.
Scheme knitting top:
Post author