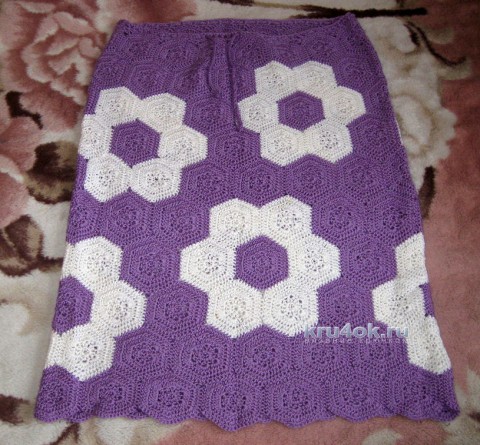 Autumn skirt the hexagon motifs.
Connected the description of Your site.
I used a different scheme motive. The number of motives customized on the figure with the expectation that the flowers were complete. In the end I got 140 motives, of which 48 are associated yarn white, while 92 — purple color. Yarn consumption: less than 100 g of white yarn, about 150 grams of purple. Used yarn "Brilliant" (wool/acrylic 50/50) and the hook number 3. Motives connected with each other in the process of knitting the last row. Belt tied product along the upper edge, alternating columns without nakida, columns with nakida and columns with two yo to "fill in" the corners between motifs. Thus, the upper edge of the skirt is smooth. The last row is done this way: column with nakida, 2 air loop, etc. In this series the lace is inserted for fixing at the waist. The scheme of the motif and layout of explanation attached. I wish you all a good creativity!!!
The scheme of knitting and assembling the skirt:
Post author