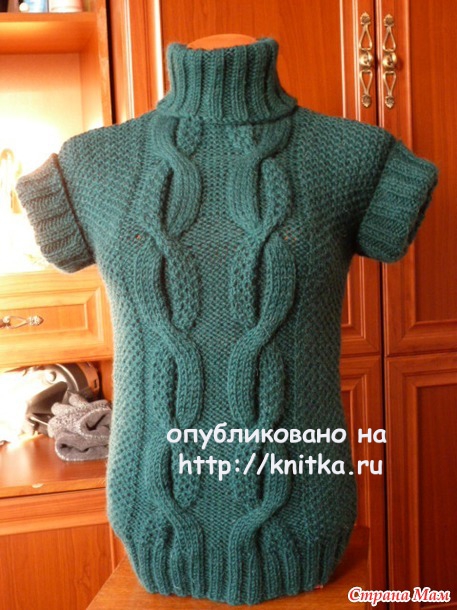 Hello girls! Here's another new thing - Bezrukova. Was a very warm thing. Yarn "Warm"(95% wool,5% acrylic). Oslo 42 size 4 by Hank(150m per 100g). Spokes number 4.
Description tank tops from the magazine
Sizes (European): 38/40 (42/44).
Dimensions (Russian): 44/46 (48/50)
Crochet tank tops you will need: 750 (800) g Burgundy heathered (Col. 5) yarn Lana Grossa FAUNA (70% organic wool, 30% Alpaca wool, 60 m/50 g); straight needles № 7 and № 8; circular knitting needles No. 7 and No. 8.
The technique of knitting.
Gum: alternately 2 persons., 2 Phi.
Pearl pattern:. R. alternately knit 1 individuals., P1.; in Phi. R. slipping the loop.
Braids (width of 40 p.): knit according to the scheme. In Phi. p. loop knit in pattern, except the 10th and the 28th R. Repeat with the 3rd to the 38th R.
Density knitting.
Pearl pattern, spokes number 8: 10 p. and 16 p. = 10 x 10 cm;
Scythes: 40. = 23 cm.
Backrest: dial 68 (72) p. on the spokes number 7 and knit between chrome. with a rubber band. Then bring the loop on the knitting needle number 8 and knit as follows: chrome., 14 (16) p. pearl pattern, 40 p. KOs, in the 1st R. to score according to the scheme 2 p. 14 (16) p. pearl pattern, chrome. After 66 cm from beginning work close from both sides to shoulder bevel 6 p., then every 2-m p. 2 x 6 (7) p. Close the remaining 34 p., with 10 x 2 p. knit across the row together.
Before: knit as back, but for neck through 62 cm close averages 8 points and both sides finish separately, to round neckline close to each 2-m p. 1 x 4 STS, 2 x 3 point, 1 x 2 p 1 x 1 p. the Shoulder bevel perform as on the back.
Assembly: perform shoulder seams. To dial collar on the edge of the neck 56 p. on circular needles number 7 and knit elastic. 7 cm to transfer the loops on the knitting needles No. 8. After 24 cm from the beginning of the collar loop freely close. For trims armholes dial the circular needles number 7 on the edges of 20 cm from the shoulder seams 42 p. and tie between the chrome. rubber band 12 cm, then loops to close. To run side seams and seams slats, trims the armholes and fold in half to inside and sew.
Scheme knitting sleeveless jacket and pattern: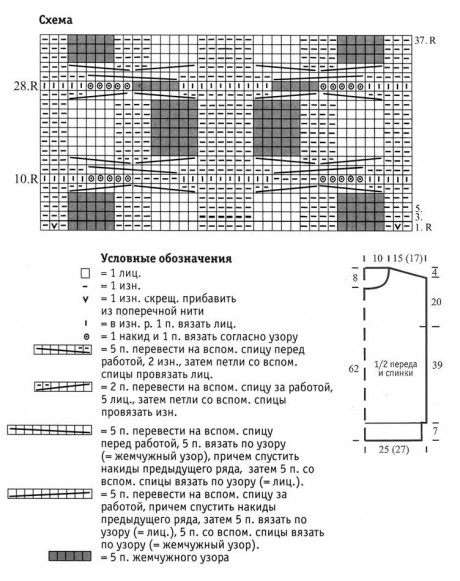 Post author