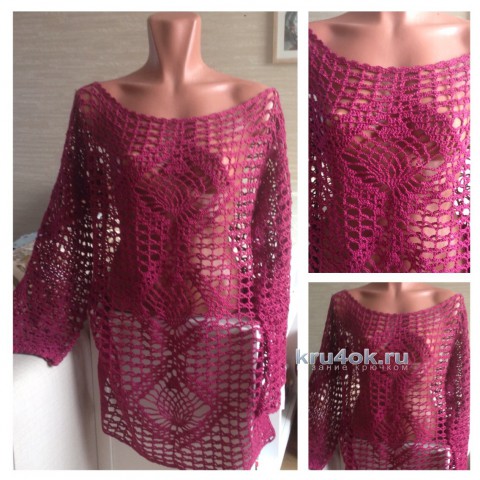 Beach tunic 100% cotton narcissist. Size 48-50. Yarn consumption 300g. Hook 2.0. Tunic will save You on a hot summer day. Looks very impressive and attracts the views of others. The scheme is found on the Internet.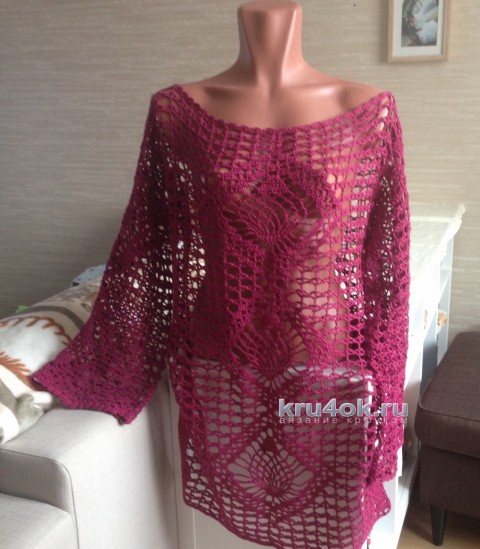 Description tunic
Dimensions: 36-38.
You will need: yarn "Flight" (100% cotton, 400 m/100 g) - 450 g orange color, hook №3.
Back/front: dial a chain of 10 air. p., and knit by the scheme from the 1st to the 34th row. Then link 2 pentagonal element and join work in the round as follows: tie a chain of 11 air. p. and attach to 2nd pentagonal element Conn. column. Continue to knit a single sheet to 40-th row. Then, repeat the Central core element 19 to 40 the number 2 more times and 1 time from 19 th to 31-th number (there should be 3 fully implemented Central element and 1 unfinished). In this case the side elements should be alternated, without being attached to the scheme. Next, divide work in half and knit each part separately. In the process of knitting the next two rows take sides for arm openings. Davaite the last element under the scheme to 35 series in front and to the 39th number on the back. Then do the neckline at the front. To do this, divide the part in half and knit each part separately, subtracting 0.5 repeat with the sides of the neck as long as the length of the product will not be 92 see
Sleeve: dial a chain of 10 air. p., and knit by the scheme, and at the end of the 13th and 14th rows instead of two negatives make one. Next, connect the work around and knit 1, the Central element to the end, 2nd on the chart until 28th row. Please note that when connecting the sleeves in the round does nothing connecting elements. Then take away 0.5 of rapport with each side of the lo until the sleeve length along with a rapport will not be 50 cm.
Assembly: perform shoulder seams and vsheyte sleeves. Tie all the product art. b/n.
Scheme knitting tunic

Post author