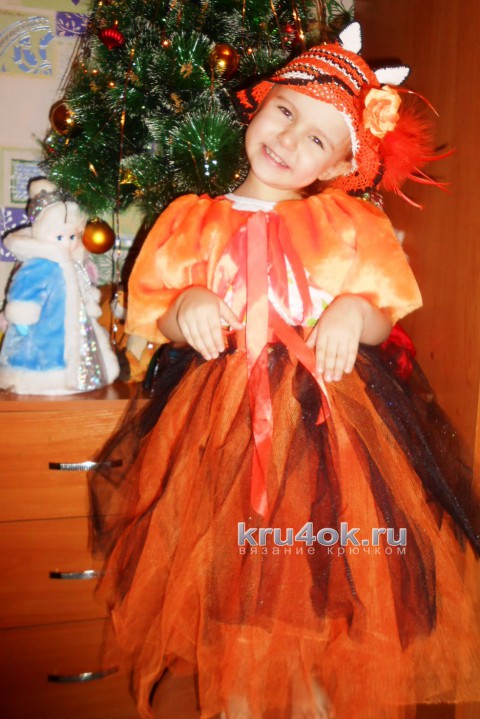 Knit a hat for her three year old daughter Alice for a Christmas costume. Summer to find a suitable tee shirt, sewed the blouse and turned the original summer outfit!
Hat is made of 100% cotton, iris, took almost 2 Hank orange in colour and somewhat black and white, hook 1.5 mm and 1.3 mm. Cap on the volume of the head 50, see
The bottom is knit according to scheme 1. orange yarn crochet 1.5 mm. In the 12th row knit from each arch and 4 columns with nakida. Then knit without additions mesh 2 column with nakida, 2 air loop, 2 column with nakida, etc., in subsequent similar rows (columns under the columns). Knit 4 rows of orange yarn, 1 row white, 1 row black, 2 rows orange, 1 row black, 1 row white, 4 rows orange, one row white and black, some orange, one row of black and white. Then set the fields. Field knit for the scheme. The first 4 rows knit yarn white, then orange, last row black.
Lugs dual, front white, back orange with black yarn. The ears are knitted from the top of the hook is 1.3 mm from one hinge 3 air lift loop and 2 column with nakida, then turning ranks with the additions in each row around the edges (the first and last column to 2 column with nakida), knit to the desired size 4 details. To put two columns without nakida black yarn, tie another series of columns without nakida. Hat decorated brooch from the flower and feathers, beads and sequins.
The scheme of knitting hats:
Post author