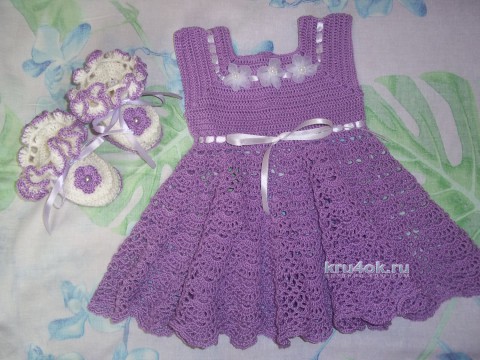 Sundress for girls 1 year Yarn "Anne" 1 skein. The hook of 1.90 or 1.75. Satin ribbon about 2m. Buttons 3pcs decorative flowers 3 PCs.
Description of dress:
Flirty:

Dial a chain of 92 V. p.
Next knit scheme 1. up to 4 rows.
5 through 9, a number similar to 2 row.
10 the number of generated armhole sleeves.
11-14 number of columns with nakida in the art. with nakida previous row.
15 14 similarly, a number row.
16 a number of. St. with nakida.
Scheme 1 crochet yoke:
Moving on to the skirt.
1 row. - 1 tbsp., 3 V. p. (through 2 loops of base).
Further according to scheme 2.
Knit 35 rows.
36 a number of. Banded bottom skirt art. b.N.
Get 9 shells.
Scheme – skirt. To make the bell don't need the third row of knit shells extra shells.
Diagram 2 knitting skirts sundress: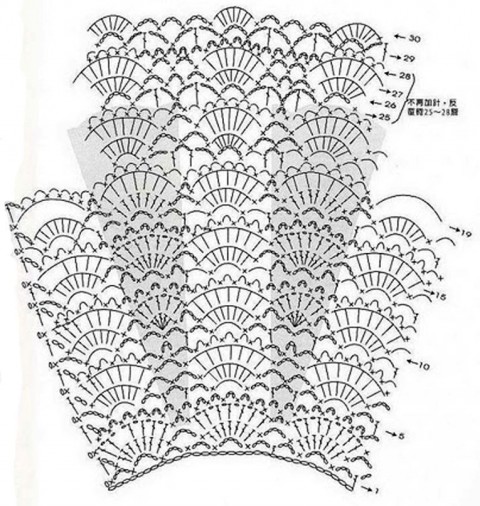 Clasp:
With one edge are finished with 2 rows St. b.N.
With another 1 row of art. b.N., 2 series article with B. Make the holes for lugovets, 3 row St. b. B.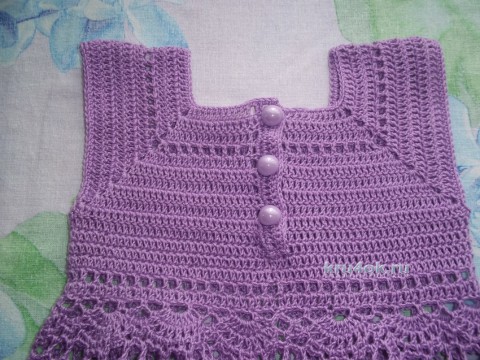 Banded armholes and neckline St. b.N.
Then we decorate.
Insert tape, sew on buttons and flowers.
Sundress ready!
Post author