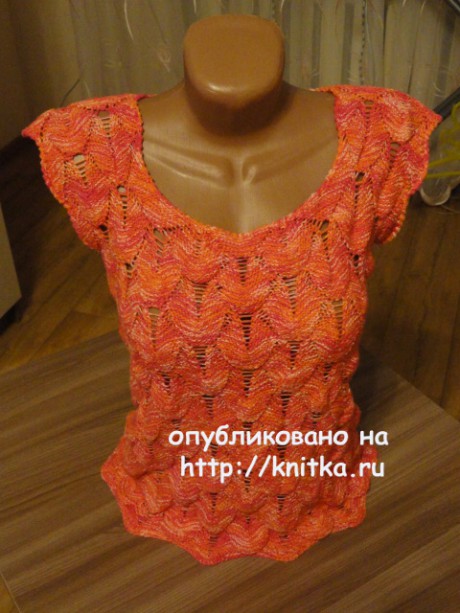 Good day handy! My name is Svetlana. I also would like to submit for your consideration and to show their work. Summer blouse top associated with a pattern of leaves, made of yarn of Lenok ("Yarn from Troitsk", 550 m in 100 grams, 70% cotton, 30% linen) in two strands, went 2 roll size 44-46. Tied with crochet.
Sizes (European): 36/38 (42/44).
Dimensions (Russian): 42/44 (48/50).
The technique of knitting top
Knit garter: persons. and Phi. R. knitting Phi. p.
Pattern leaflets: knit by the scheme. The numbers indicate the right persons. p., left - Phi. R. the width p. start with chrome. St before 1st arrow, consistently knit rapport = 22 p. between the arrows, end chrome. p. after the 2nd arrow. Tall knit 1-20-th p., then repeat these 20 R.
Density knitting pattern of leaves: 26 p. and 27 p. = 10 x 10 cm (measured after thorough steaming).
JOB DESCRIPTION
Note: the teeth on the hem are obtained automatically thanks to the technique of knitting.
Back: dial 112 (134) p. on the spokes № 3,5. First knit 2 p. boards. binding. Then knit pattern of leaves. In 37 (38.5 cm) cm = 102 (106) R. from start to dismiss both sides of the beginning of the armholes and re-knit straight. 15 (17) cm = 40 (46) R. from the beginning armholes close all clause.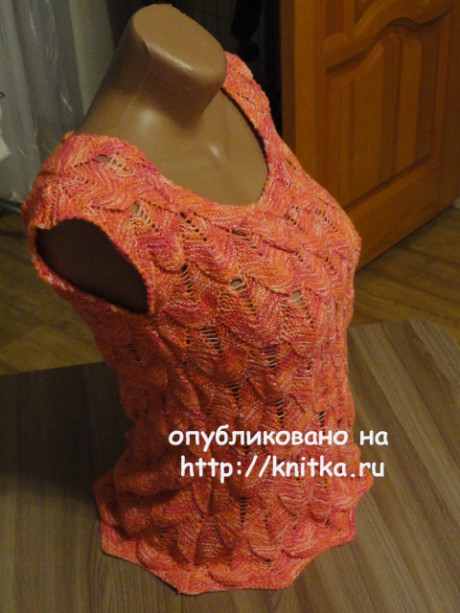 Before: knit similar to the back, but with a round neckline. For this 11 (13) cm = 30 (36) R. from the beginning armholes close Central 44 p. and both sides are knit separately. On the inner side close to round in every 2nd p. 1 x 4 p. 1 x p. 3, 1 x 2 p 1 x 1 p. the Remaining 24 (35) p. shoulder close from the outer side at the height of the backrest. The other side to finish symmetrically.
Assembly: details spread and carefully steam iron with a damp cloth, otherwise the pattern will rise and will resemble scales. To run seams, side seams to sew up to the marks. Edge neckline tie crochet 1 round. R. St. b/n and "crayfish step" = art. b/n knit from left to right. Every circle. R. finish 1 connecting column.
Scheme crochet top and pattern: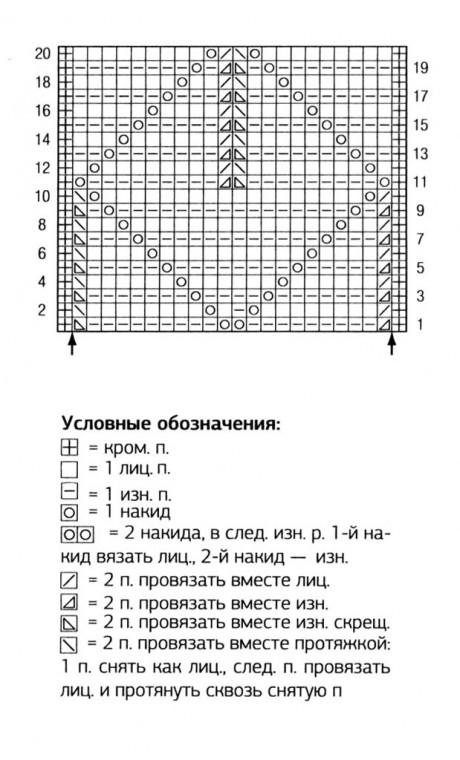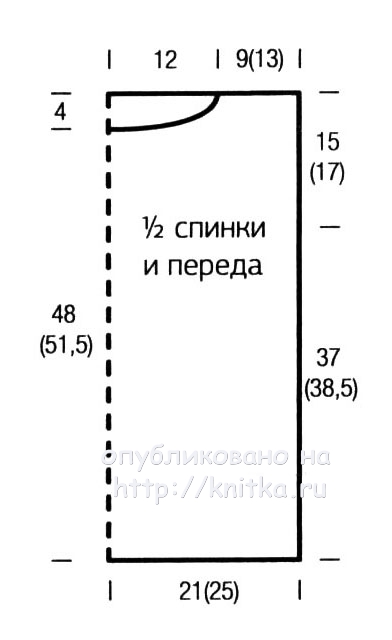 Post author