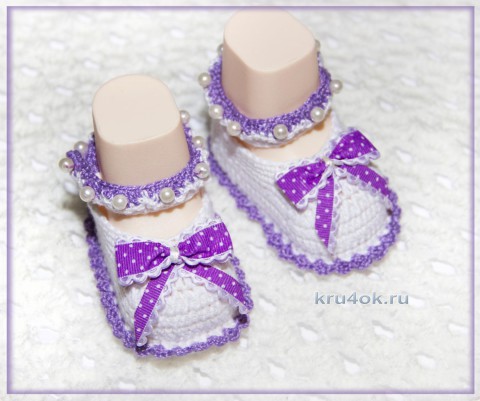 Summer booties-sandals for little feet very even and 9 cm Knit them from the threads Lira VITA (100% mercerized cotton), finishes used iris.
Description bootees:
Recruited VP 16 and knit according to the scheme of the sole, then 1 row of "lifting" PSN - they tally like this: to enter the hook for two walls down, and bring up through next loop, then grab the thread and knit some myself PSN following PSN fit in the same loop, where we were taken hook.
Then are finished the SSN number, then 1 row of SC.With the next row begin to make obuvki to form the toe.
In the first row of ubavoj (4th row) right in the middle of doing 11 obivok, promazyvaya these loops SSN, the other loops in this series tally SC.
Fifth row - same as fourth only 7 ubavo will be strictly in the middle.
Sixth row - 5 ubavo in the last 7 rows of 3 obuvki. Now from the rounding of the sole, where the stitching, knitting strap. I knit 22 of the loop from a seam in the rear heel and scored 24 VP, knit the row back to the seam, then again turned the knitting and knit some more, leaving a place for the button. (SEE diagram 2), and knit another row.
Now decorate pinetucky. Take the strings of the iris and the hook 0.75 and make a binding scheme No. 3 in that series, which was the last in the knitting of the sole.
The top of the strap banded scheme No. 4, (knit in the front loop from top to bottom) edge of the binding, I tied a white iris SC, then purple thread knit row on the top of the tab. To the binding is not stood up, I was sewn to the strap as you sew beads. Do any of the bow, (or like me - how to put it together - I did) or take a ready-made and sewn. Neatly hide all the threads that sew the buttons and the sandals ready!:)
Scheme knitting bootees:
Post author