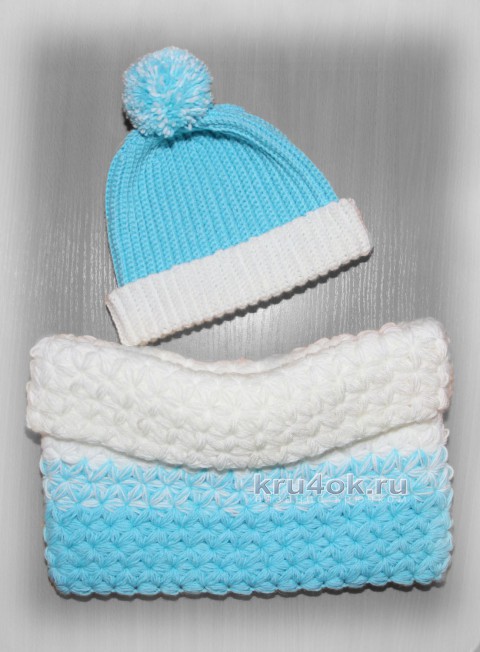 Warm autumn kit for girls. Beanie - beanie and Snood in one revolution of the pattern "stars". The yarn used "childish" in two strands and crochet hook No. 2.

Hat - beanie fit fabric and then sewn on the back.
Most importantly, the right calculation of loops, I found information about it on the website of the author of this beanie - Polina Kuts.
Here's her description:
In this example, the yarn of 240 m 100 g, hook 5 mm.
Vertically 45 loops. 72 horizontal row is a multiple of 6.
(How to calculate the loop by the standards: you must associate a control sample, usually knit a square with sides of 10×10 cm, and more. Sample it is advisable to wash and give a little lie down.
To the finished pattern (I show an example of the sample associated columns without nakida) apply a tape measure or a ruler and record how many loops and rows fits in a 10 cm
Divide the number of stitches and rows by 10 and get the density of knitting.
I got 10 cm — 24 stitches and 26 rows.
The density of knitting is 2.4 loop horizontally and 2.6 series vertically. Then you can easily calculate how much we need to improve on loops for our products and how many knit rows.
For example, we need detail 30 cm wide and 40 cm in length. It turns out we need to score 72 of the loop and link 104 series.
I usually just make a proportion and consider this:
The calculation of loops:
10 cm — 24 loop
30 cm x loops
x=30×24:10=72 loops
Calculation of ranges:
10 cm — 26 series
40 cm — series
x=40×26:10=104 rows)
AN EXAMPLE OF THE CALCULATION.
In the calculation in each section I have 12 rows: 10 short rows (from 35 to 44 SC in row) and 2 full-range (45 SC).
Scheme crochet beanie: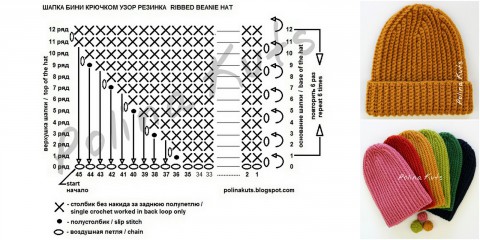 A detailed description of beanie see Polina Kuts, the author of this scheme
I'm a more interesting appearance caps changed the color of the lapel by simply changing the thread to a thread of a different color a little further than the length of the lapel:)
Pompom made using cardboard circles.
Snood knitted in 2 threads, and a hat, replacing the one filament to another color to get the gradient.
Description cowl, see the link
Linked Snood pattern "asterisk":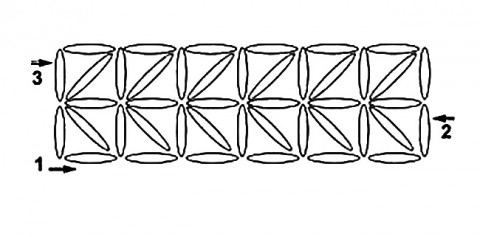 Post author