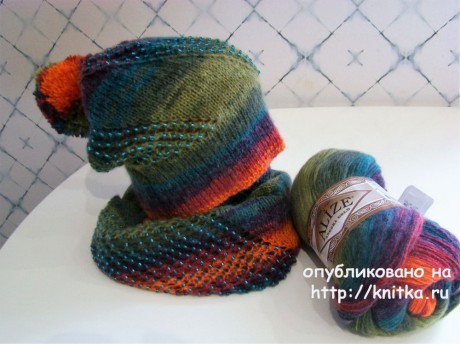 Good time of day. Here I have made contact supporting: beanie and Snood with beads.
Snood I saw Sternaman and I wanted to try knitting with beads. Needed yarn Alize Angora gold batik 100г550м, knitting needles 3mm crochet hook to put beads 0.6 mm, well, beads.
First I connected all according to the description, even reviled a bit, but I did not like the width of the cowl, so I dressed, made narrower (but as someone like). And yarn, I had two Hank, and then itself contacted the cap.
Cap double elastic band is also double hollow. How to tie a double cap can be viewed here. Advice for those who want to try knitting with beads: the beads be sure to go with a hook and yarn. On the spot try, will the hook with the thread through the bead.
Description of cowl:
The size of the finished product: width 36 cm, length 112 cm
Materials: 1 skein MalabrigoYarn Lace (50g/470 yards (428 m), bead number 8 – 728 PCs;
Knitting needles: 5 mm circular( 8США) long, 60-80 cm, hook 0.75 mm / (14 US)
The density of knitting: 4,5 n 7,5 x R=1x1 inch (2,54х2,54 cm) individuals. stitch.
Job description:
Snood is knitted in a circle, the beads engaged in the process of knitting with a hook.
Score 200 n, to close the circle, place a marker at the connection.
1 R – all.
Continue to carry the stations. coats and openwork pattern with beads. In order to avoid excessive stretching of the knitting at the line of transition from the. surface of the openwork, it is recommended to purl the last facial before the 1 St nakida back.
1 R: "yo, 1 broach" 15 times. until the end of the series
2 p: all persons, including beads in each wire except the last=14 PCs
3 p: persons up to the 1st loop with the beads, then knit as 1st row.
Repeat rows 2-3, 51 times (14х52=728 PCs beads). Azhur is shifted to the left 1 St every 2 rows.
Last row: all entities.
To close the loop, perform vegetalbe processing.
Master class on knitting with beads
Post author