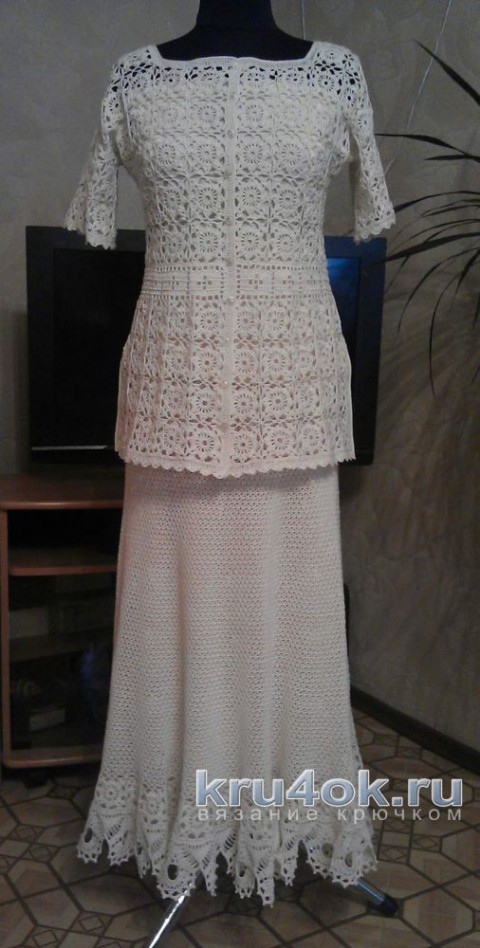 Suit model Polina Drach from a fashion Magazine. The suit is related to order cotton LILY (225 m per 50 GRS) , 1200 grams for a size 48, hooks 1.7 and 2.1. Maxi skirt, the form-year 8 wedges made of knitting in a circle with no seams, from the waist. The edging is bound in two steps: first, the squares in the knitting process are attached to the bottom of the main part of the skirt, then on the edge of the notched band. The jacket is composed of squares, waist line emphasizes fillet insert. The closure of pearl buttons.
Description knitting jacket:
Size 48.
You will need: 350 g of white yarn (100% cotton, 320M x 75 g); hook number 2. The model consists of openwork square motifs connected by the process of knitting the last row. The dimensions and location of motives, see figure. 9.
To start, a sample of the tracery of the square according to the scheme 9 and check it against the size stated in the pattern. If necessary, take the hook greater (smaller thickness). Knit motifs, joining each other, in the places marked with arrows, as shown in the diagram. What is the average VP of arches 3 and 5 VP to knit the connecting loop in the middle of the EP, symmetrical arches of the neighbouring square. The edge of sleeves and bottom of jacket and tie pattern according to scheme 9. Shelves and neckline products make SC.
Description crochet skirt:
The size of the skirt 48.
You will need: 510 g of white yarn (100% cotton, 320 мх75 g); hook number 2. Before starting, follow the pattern of the product life-size and adjust according to their standards. Dimensions see figure 10. Start from the hip line (line AB) and tie down the basic pattern according to the scheme 10. 10 cm start of addition (scheme 10 a) in four places, at an equal distance from each other (these locations mark with colored thread). In the next row make 2 additions in each of the four marked locations. Then do 8 additions in every third row above the previous addition. You have reached the desired length, tie 1 row of С1Н. Then proceed to run the edges of the skirt.
The border consists of openwork square motifs connected according to the scheme 9. Tie motives and connect them among themselves and with the skirt in progress the last row. Continue openwork pattern according to the scheme 10 b, spreading it evenly over the entire length of the hem. Then continue working up from the line AB С1Н, at the same time subtracting on each side 1С1Н in each row. 15 cm run waist skirt, which take the hat band and applying it against the previous row, bind SC. Thus, tie 5 rows of SC.
Scheme knitting skirt and jacket: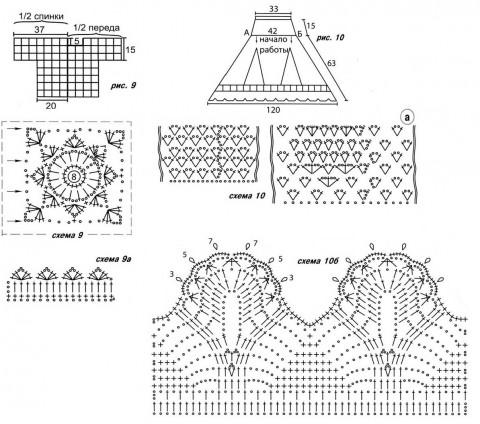 Post author