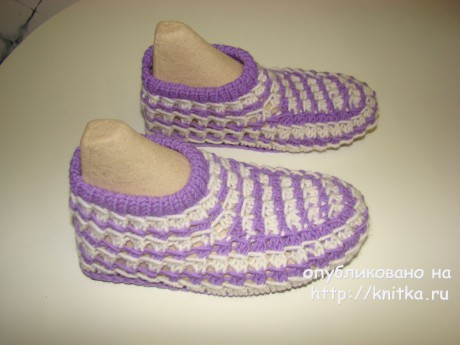 All kind time of day!
Contacted I these Slippers. Knit from the remnants of yarn Alize Alize Kashmir and langold. Size sole 19-20 cm
( boy 8 years). Two slipper took about 45 grams of yarn.
The idea as always was taken from the Internet.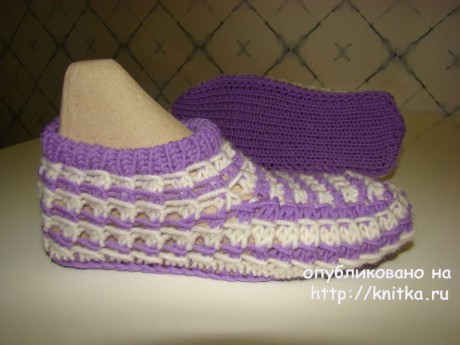 The Slippers description
The main two-tone pattern:
To gain an even number of loops.
1st row: chrome. shoot, yo, 2 facial and stretch them through yo, repeat to end of row, last login.loop reverse.
2nd row: chrome., all wrong.
Repeat these two rows. Change yarns every 2 rows. The figure can be used as face and back. I have a face.
Begin knitting. Italian set dial 60п.+2кр.=62п.
Next knit hollow elastic 6 rows. (see here), in the 7th Phi.series should to diminish the loop to 40+2=42. To do this, intervals are finished in two along the other.
Here's what happened: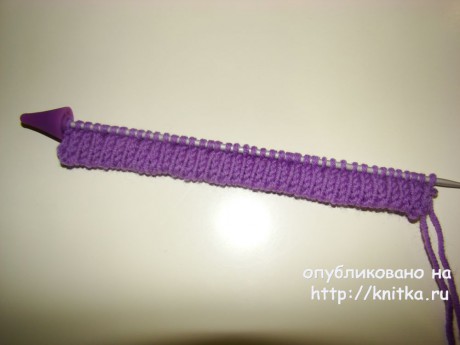 Start the basic pattern with a white thread, are finished 3 strips (6 rows), the thread breaks. Vasana divide into 3 parts. I 16-10-16
16 remove the extra loops on the needle or a large safety pin, for 10 you will knit the toe trail. 16 loops are also removable.
In the Central 10 loops continue knitting pattern to desired length ( about to the middle of the thumb),I got 10 strips (20 rows)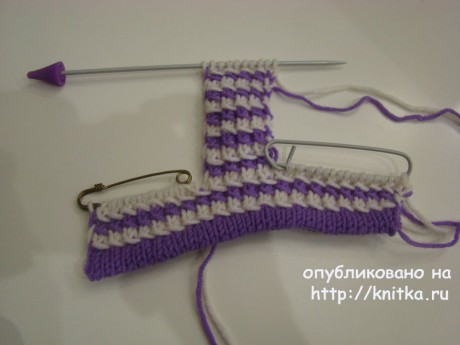 The thread breaks, the loops on the needle. Translate the first 16 stitches on the needle and begin knitting the pattern, on the edge of the toe recruit additional loop, I got 16P (enter them in the pattern), and then 10 loops, again recruited through the edge 16P and 16 from the second pins. A total of 74 of the loop. Continue knitting pattern to desired width sneaker ( I have 8 rows ).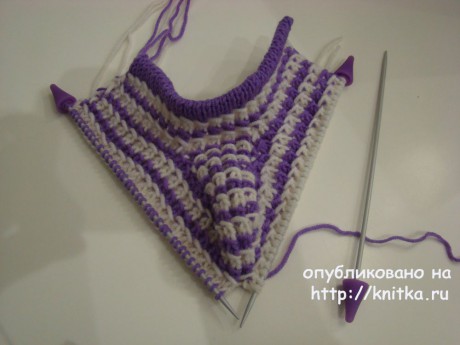 Then knit the sole of this:
LR knit the front thread of the color, what will be the soles.
IL-33.., 8P. Phi.(these 8P. and will be the beginning of the sole),the work turn
LR front 9,turn
10 reverse, turn
LR 11 facial, to turn
IL-12 inside-out, turn
These 12 loops and you will knit the sole. The sole is knit on the principle of heel:
LR 1P. shoot, facial 10, 11 and 12P. along the front, turn the work
IL-1P. shoot, purl 10, 11 and 12 together purl, turn the work.
Then repeat and knit until, while we on the sides will not remain nepovezane for 5 loops.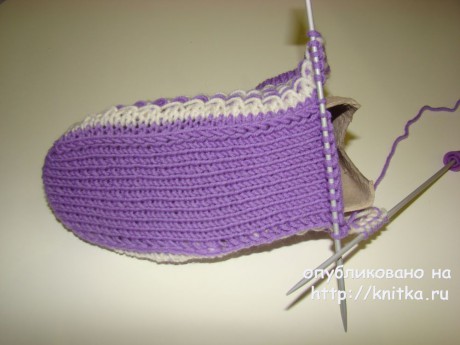 Continue
LR 1P. shoot, 2 together. with a slope to the right, 6 persons, 2 together individuals with an inclination to the left 2 together.
IL-1P. shoot, 8 Phi., 9 and 10 together.
LR 1P. shoot, 2 together individuals with an inclination to the right, 4 persons, 2 together individuals with an inclination to the left 2 together.
IL-1P. shoot, 6 Phi, 7 and 8 together.
And continue till all loops on the sides. Must stay 2 loops. They are finished as follows: 1 remove, 2 together persons and stretch through the first loop. We left with 1 loop. Cut the thread (including stitching), pull it through the loop and sew the heel Slippers. Hide all strings.
Knit the second slipper the same way.
If you want to associate a sneaker larger loops need to score more and longer vamp.
In the future I want the outside to the bottom to sew a leather insole that is worn and does not slip on the floor but not yet at hand suitable materials.
All success and creative ideas!
But and Slippers for my daughter contacted :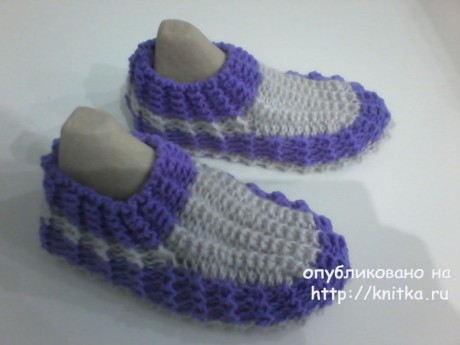 Post author