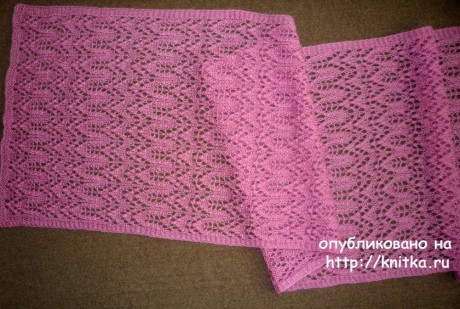 Delicate tippet. Very warm, airy, feminine product. Fit easily and quickly. For the work used YarnArt mohair production in TURKEY, 100 gr - 520 meters, the spokes №4,5. Length 180, width 50 cm, At this size took 1.5 Hank.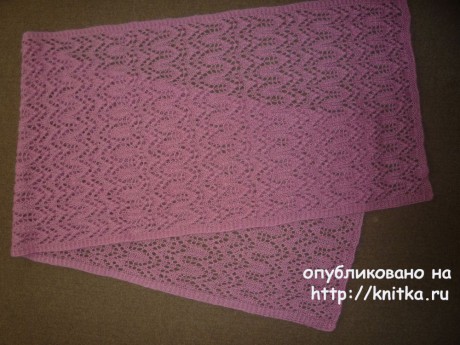 The description of the tippet
The figure below shows the repeat of the 8 loops, the ninth loop promazyvaetsya only at the end of the last rapport of the product, not in every rapport. On the spokes dial 91 loop (80 loops-rapport+1 loop end repeat +4+4 garter viscous +2 edge). So, dial 91 loop and knit 4 rows of garter viscous. Then in the following way: 1 chrome, 4 loop garter knit 8 rapport, 1 front loop, 4 loop garter knit 1 edge. In the back row all the loops knit into the pattern. Pattern repeat 1 to 25 range. Linking 14 rapport in height to re-purl 4 rows of garter viscous, and all the loops to close the front. The product to wet to the loops finished, dry on a horizontal surface,slightly iron.
Scheme knitting stole.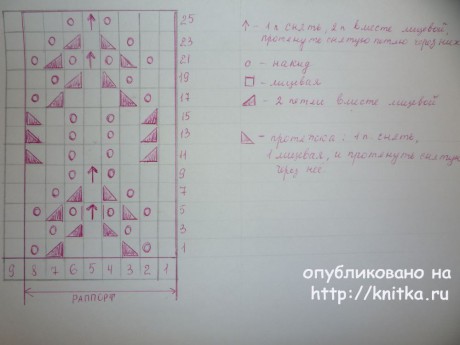 Post author