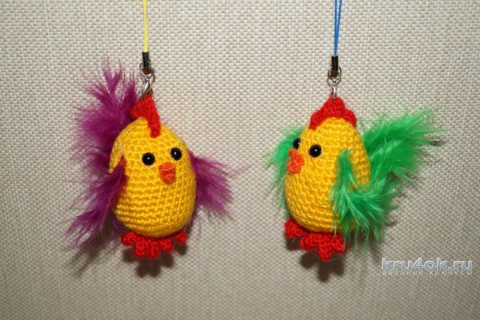 All kind time of day! Propose to relate the gifts for the New year. You can arrange them as keychains, and how magnets can be hung on the Christmas tree, but you can just leave as is - and you will be a toy for a child toy or interior). Master - class by Julia Kononchuk.
We will need:
1. Yarn yellow, red, orange colors. (Since the toy is small in size - strings need quite a bit - its use is perfect). I have this 100% acrylic "KARTOPU" (100g - 300m)
2. Filler (sintepon or hollofayber).
3. Hook ( I No. 2)
4. Beads or eyes.
5. Feathers for wings and tail (if no feathers - wings just to connect, I have this thread "SOFTY" )
6. Keychain or a magnet on request (and without them)
7. Glue.
Legend:
KA - ring amigurumi
SC - column without nakida
Clos - column with nakida
PSN - polytypic with stitches
SS connecting loop
VP - air loop
PR - gain
UB - twist
() is the total number of loops.
Job description: (knit in a circle of yellow thread)
1P. 6 SC in the SC
2P. 6 PR (12)
3R. (1 SC, PR) x 6 (18)
4P. (2 SC, PR) x 6 (24)
5P. (3 SC, PR) x 6 (30)
6-13R. (30)
14P. (3 SC, UB) x 6 (24)
15-17P. (24)
18. (2 SC, UB) x 6 (18)
18-20p. (18)
21P. (1 SC, UB) x 6 (12) (to Fill with filler)
22p. (12)
23P. 6 UB (6)
The thread to fix, crop, hide.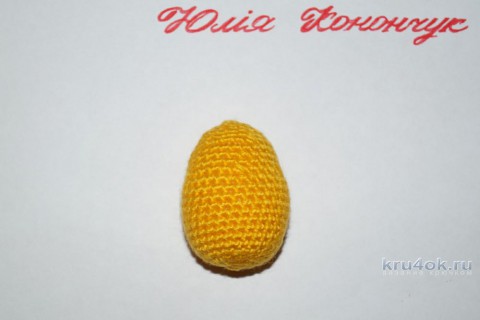 Beak (orange or red thread):
6th V. p., in the third loop the loop on hook - 1 SC, 1 SSN, 1 SC, SS, VP, knitting turn - 1 SC, 1 SSN, 1 SC, SS, V. p. - fasten the thread.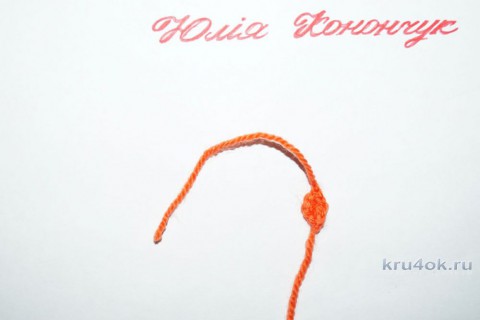 Before you sew the beak, I bring both strings to the center back, tie them with a double knot and sew or glue beak, the ends of the thread hidden in the carcass.
Side view: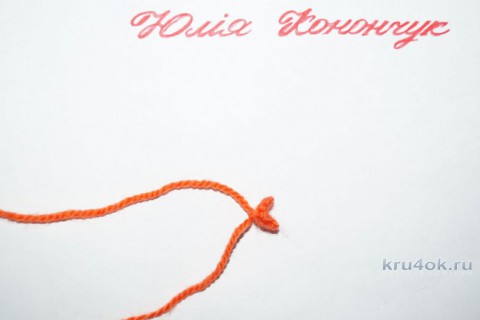 Legs (knit 2 PCs red thread):
To score 5 VP, in the second loop from hook (4 SC + SS in the 4th) x 3, SS to join all 3 fingers, 5 V. p, second 4 SC, SS.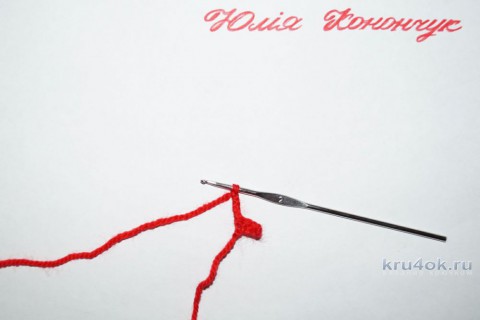 The legs also put both threads in the center, tie a knot and sew the legs to the torso: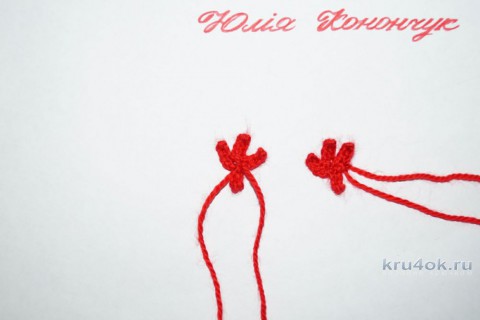 Sew the legs to the torso: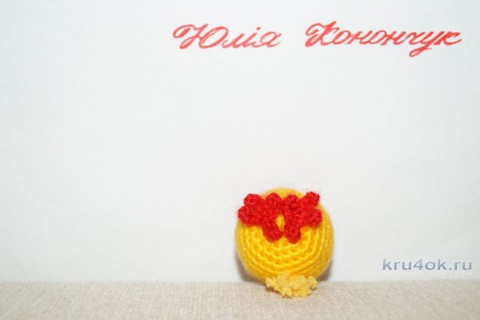 Scallop (red thread):
Dial right on the top of the head 6 SC, V. p, - turn - 3 SC in one loop, SS, one hinge - (PNS, PRS, V. p, SSN, PSN), SS, 3 SC in one, SS.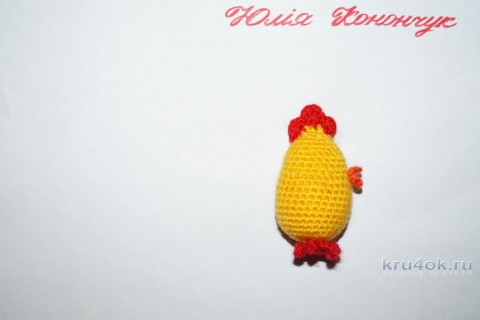 Wings (no feathers) - yarn tightly main:
Dial 8 SC in second from hook, SS, 1 SC, 1 SSN, 2 сс2н, 1 SSN. Thread to fasten, leave an end for sewing.
In absence of tail feathers made it with 4 small little pieces of yarn, tying them into a knot. Wings glued, filament hid: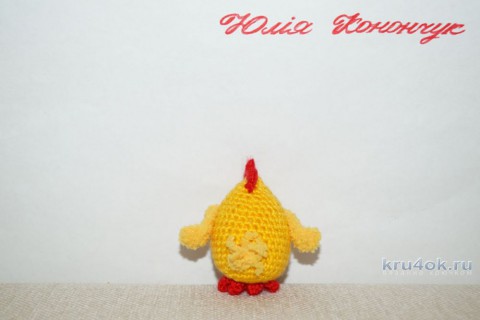 So that was a chick: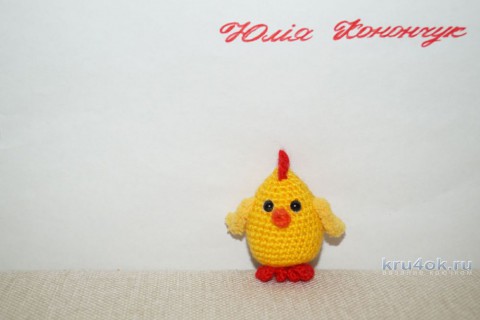 Option of chicken with feathers:
Since I have chickens too, from the feet to the crest is about 8 cm, I missing one feather, which I carefully cut into 3 parts: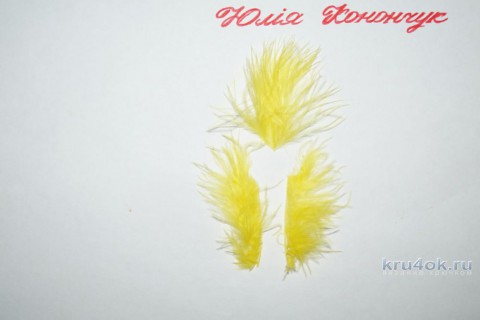 The tip of the pen is a future tail, 2 edges, respectively wings. You can glue them, but I don't really like, so vymazat like the basics:
for the tail, 6 SC in loop, V. p., turn - 6 increases (12)
- for the wings to score 8-10 V. p., the thread to secure it.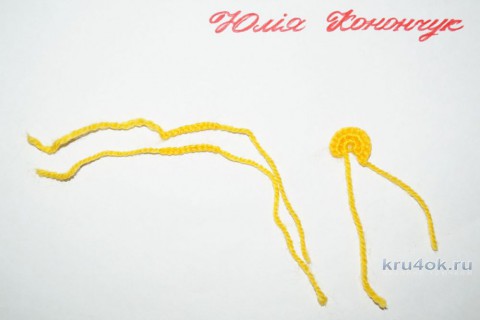 Carefully glue - and rear view: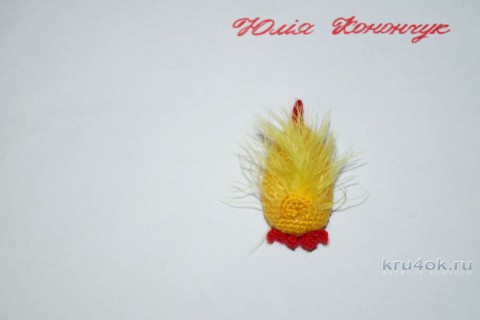 Side view: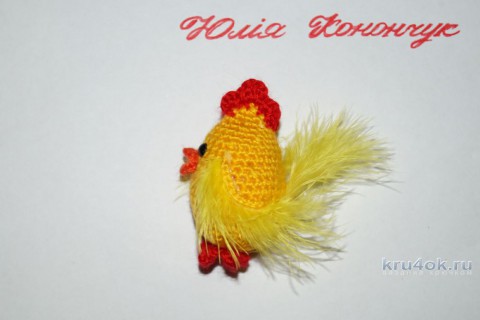 Glue the eyes and here is the result: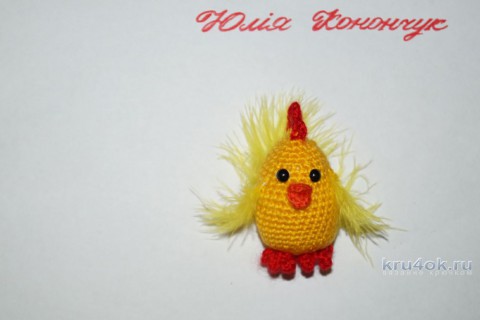 But the brighter version: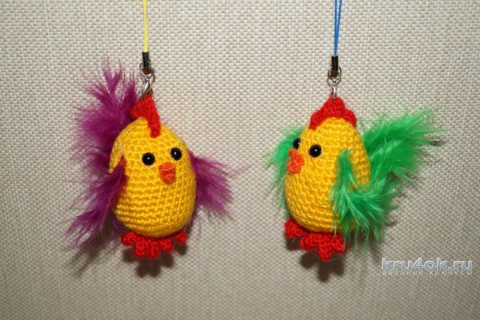 Thank you all for looking. Wish light eyes and beautiful gifts!)))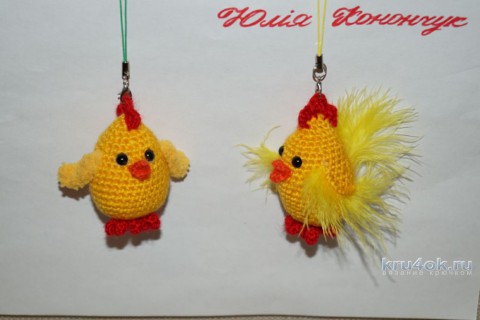 Post author