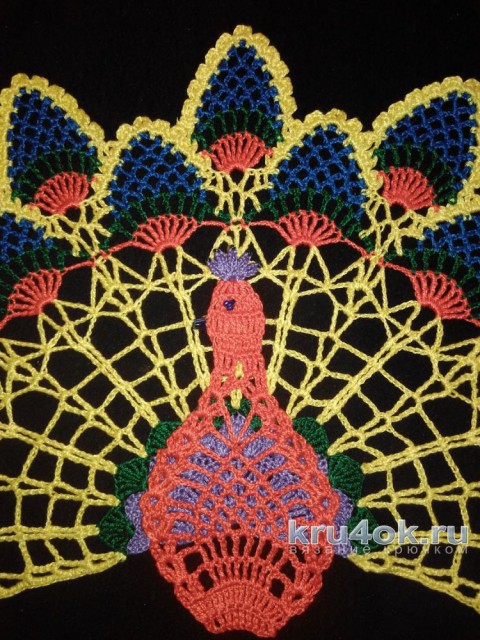 Hello friends! This bright cloth I knit in the description from the magazine "Napkins with openwork motifs" (translated from English). I used hook №1,5 and thread "iris" five colors. Still need beads for the crest and eyes, and a bugle for the beak.
The napkin I got with a length of 40 cm and height 24 cm First, fit the tail, tying as you go thread the desired color, and then each "pineapple" feather dokazyvaetsya separately. After the first series of "pineapple" is tying the fringe in yellow, and then a second row of "pineapple" - feathers. Since the napkin is not circular, at the end of each row is rotating equipment (with the exception of those cases when you need to tie the thread of a different color). After the tail domazan, you need to bind a torso, likewise turning it into the end of each row. Crest: on top of the head vivasyan 5 chains of aerial loops (7 VP, bead and back 7 SS - so 5 times).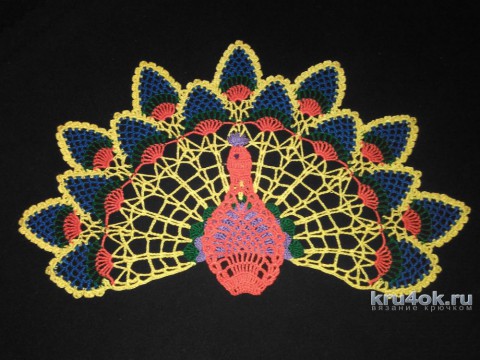 On the side of the head sewn two beads (the beak), and in the middle of the head - bead-eyes (I have 3 beads, because they are very small). Then the torso is sewn on top of the finished tail. In the journal of bone was provided in other colors, but I used the ones that I had. A drop of imagination, a lot of patience)) and you will have your cute peacock!
Description wipes can be found at the link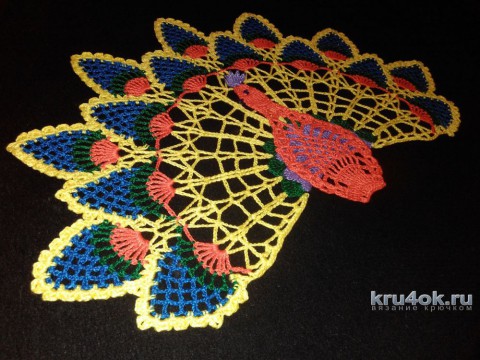 Post author