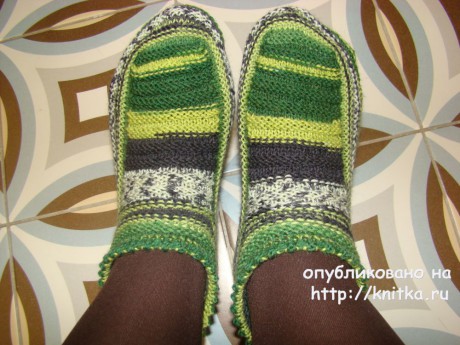 Slippers are made of Alize Superwash 100g/420m 75% wool, 25% polyamide. From one Hank turns 2 pair. Knitting needles is 2.5. Slippers turned out wonderful! Sit comfortably on the leg. The size is almost universal (I have 38 and my daughter is 35 - both good) .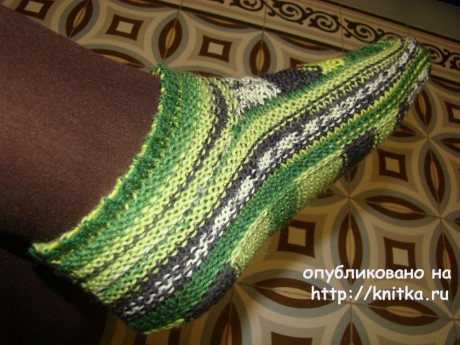 The author of the description Hope Tokarenko.
The pattern for these Slippers. 1 row-all persons. 2 the number of all Phi. 3 row-all persons. 4 the number of all individuals. 5 a number of all Phi. 6 the number of all persons 8 row repeat with the 1o-th row.
The Slippers description
On the spokes №3 dial 59 loops.Knitting hollow rubber band 1на1.
Next knit pattern. Take the thread a different color.
1 row - 3 persons, 1 p to remove the thread at work.
2nd row - p 1 to remove the thread before work. 3.
3 row thread the main color-1. 1 to remove the thread at work, 3 persons, etc.
4 number - 3 persons, 1 to remove the thread before work. So knit to the desired height, and then divide the knitting into 3 parts ( 23-13-23) and on average only knit 13 garter viscous loops to the desired length.(to pinky) This mysyk.
Then dialed on the edge of mysyk loop ( 17 or 18 ) on both sides, those who remained on the side spokes. Now, again, knit the pattern to the desired height(around 4-5cm) Then take the average 14петель and knit the heel as at the toe,and subtracting until I get rid of all the side loops.
Post author