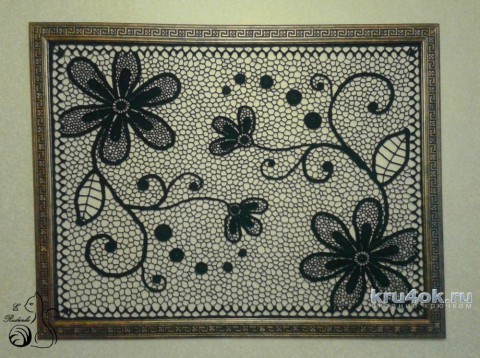 Here is the panel I linked in the bedroom. Knitting used yarn Arnart Begonia, 100% cotton, 50 gr.-165 m., consumption turned out 450 grams, the size of the panel frame 122 x 98 cm Connected in the technique of Irish lace, the fabric were filled with large irregular mesh petals filled with small mesh.
The stems and the petals were made of a wide cord chomp in 2 threads here MK:
small tendrils and some twigs knit a simple cord inchworm:
midway flowers began to knit with berries :
then tied her columns with 2 yo and crayfish step. The leaves were made of a wide cord, the veins knitting in one thread, started knitting with the base of the leaf, gaining a chain of 6 air. loops., a needle fixed, then a chain of 7 EP pin Conn. loop and returned to the center of the leaf as well the unit. loops, then moved on, knit 5 EP again and recorded, then did a branch to the side for 10 EP pin Conn. loop and also back of the unit. loops to the Central poilce leaf. In a General way reached the top of the leaf, that is tied half of the leaf, number of VP in the branches changed depending on the distance from the Central veins to the leaves, then on the same principle was knitting the second part of the branches, only been back for already associated Central progylke leaf.
In principle, the special schemes no share detailed photos of the process of knitting. Also post a photo of the dresser that I wanted a little change, namely to change the main color, then using a stencil put with a paint-bronze flowers with swirls and in the end covered all the varnish. These changes and who gave me the idea to do murals, to use similar pattern in order to perfectly fit it into the interior. Just had to break down and over the frame, some reason to order, we do not frame such a large size. In the end, had to do it most of the decorative foam moldings for walls. Then paint it with black paint and apply the final layer of bronze.I note that for me a lot of firsts: never knit panels,never altered furniture, but I was pleased with the result!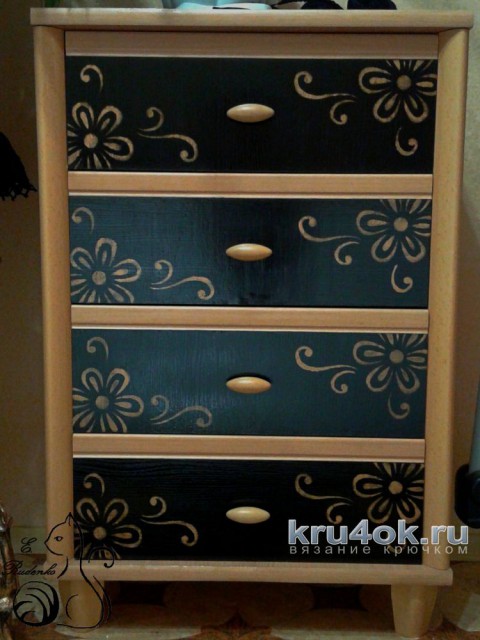 Post author