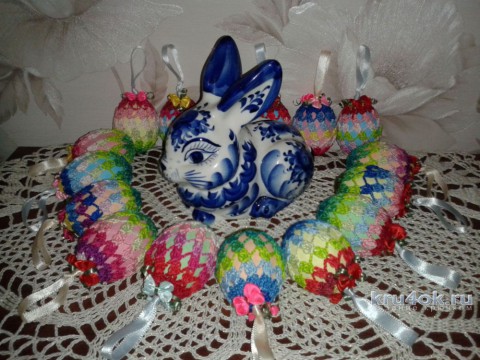 Preparing for the Holiday happy Easter. Decorate your house with Easter eggs. On a willow twig to hang the eggs. Fill the vase ornate eggs.
For the manufacture of egg you need: egg-harvesting, satin ribbon, packing tape, napkins, PVA glue , thread, knitting iris ( composition: cotton 100% ). Hook diameter 1.1 mm.
Make a blank egg.
How to make a template for eggs see the link
Take a chicken egg (empty).The shell of eggs to wash and dry.Glue a loop of satin ribbon.Hang towels.Allow it to dry. The blank is finished.
Loop.
Satin ribbon width of 1 cm and a length of 26cm and fold in half. Tie a knot. To stick to the shell eggs.
The composition of the adhesive: 1/3 PVA glue + 2/3 water.
Knit mesh for eggs.
Tie a chain of 7 air.p. and roll its 1 Conn. art. in ring (1 series).
2 rows-20 columns with one nakida.
Next knit circular rows scheme.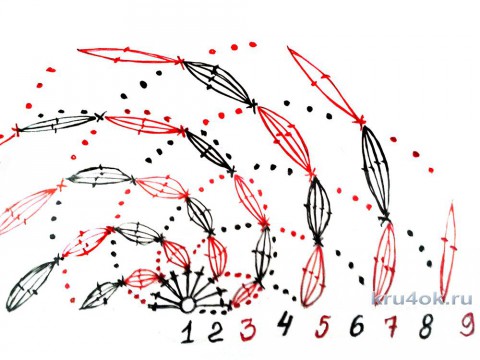 The eyelet to push through the center of knitting.Try fishnet for harvesting eggs. Next, using a needle and thread to gather the bottom of the knitting in the center pin.
Next, make two bow.Decorate the egg ribbons.
Easter egg is ready.
The alternating colors:
1 row-the.red thread
2 row-the.red thread
3 series-red thread
4 a number of Alla thread
5 a row-the.pink thread
6th row: pink thread
7 row light.pink thread
8 row-pale pink thread
9 some green thread
Post author