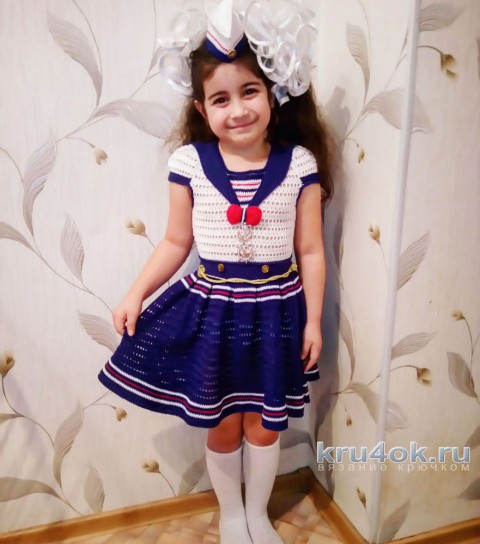 Hello! This is my first post on the website, so partially post - card! My name is Hope, like the vast majority of website visitors, I love to knit (crochet hook or knitting needles is not important). I knit with the birth of a daughter, and this is not much, not enough for almost 5 years. Of course, in early childhood there have been attempts to learn to knit, but consciously, with soul, with love, with awe to knitting I went it was during the period of pregnancy.
I represent to your attention my recent work - "Classic dress - sailor".
Nautical theme never left me indifferent (I think, like many others), so the idea is a classic sailor I "hatched" for a long time, searched the Internet, but nothing similar to the pleated skirt, and collar, and all the paraphernalia (harness, anchor, hat), was never found. Was pleased with the result at 100.
BUT! To reasonable criticism is always ready.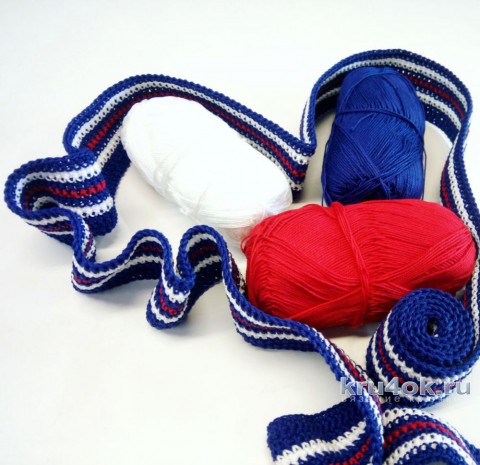 Now be more specific about the dress as knitting, what is called "head". The dress is crochet from bottom 1,5, a yarn Vita Coco. Initially recruited 434 VP and knit SC (not in a circle). 12 folds for 36 loops + 2 loops. Alternating stripes, you can knit to your heart's content, I had the following: 4 R blue, 2 p white, 2 p blue 1 p red (persons) 2 R blue ( persons, p), 2 p white, 2 p blue.
The basic pattern: 1 R - SSN, 2 p - PRS, EP, and so knit the fabric the desired height. Then again, are finished, the strips SC and formed folds, promazyvaya 6/6/6 loops together to meet each other. Thus the canvas of 1.5-1.7 m turns into a 50-60 cm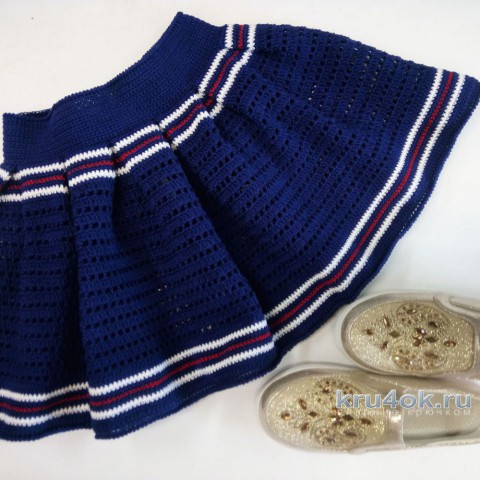 The scheme of the pattern for the dress: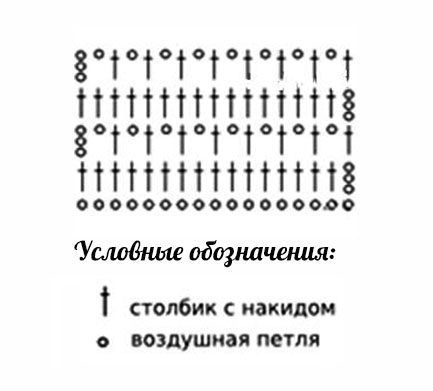 When the skirt is ready, start the crochet top dresses, a major pattern is the same.
Anyone who sees the dress, the first question is how to associate a skirt, so I painted detail as possible. In fact, when knitting the collar, I also had to break down.
So the collar I knit in 2 stages. 1: take loop from the center of his chest diagonally to the shoulder, and knit SC, forming an oval edge. 2: gain loop connected around the edge of the collar and the neck from behind and knit the required length down at the bottom of the collar of the back side also knitted stripes.
All the edges of the dress were further bound with crayfish step. Also included with the dress I knitted the cap, but I think there is no need of a very tight description.
Thank you for your attention. Very glad to your comments and evaluations.
Post author