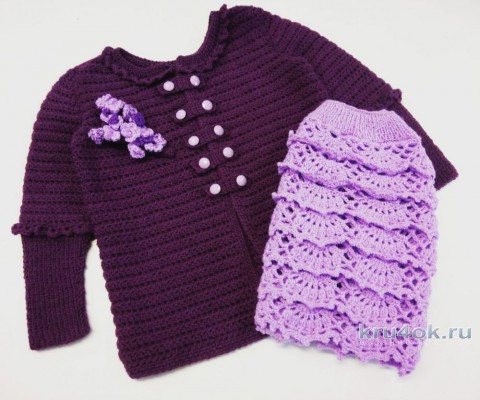 Hello! I represent to your attention the suit "Sprig of lilac". Mastermind Eva crochet, pattern of skirt she has kindly provided on his page, the jacket is connected on a different circuit.
The kit consists of skirts, a jacket, and removable brooches. For knitting I used a knitting needle 2 and the hook 1.6.
Yarn: Pekhorka "Bead". Size 98-110 took a little less than 1 skein light purple and 1 skein of dark.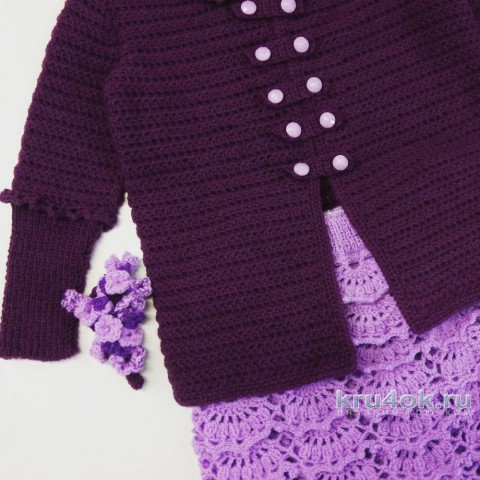 Now a little more about the process. Crochet skirts I've tried on the spokes 160 loops, then knit elastic band 1*1 in a circle about 3-4 cm, and then hook knit 1 row of SC and then on the picture. Linking the skirt is desired length (mine is 7 rapport), at the end of each row I additionally advesive 2 series (1 - arcs of 5 EP, 2- *SC in first arc, the second 3 SC, 3вп (Picot) , 3 SC* repeat to end of row) for the effect of tiered skirts. Also, the gum on the reverse side additionally was tied a rubber thread 1 next SC.
After the knitting skirt start knitting a jacket. The jacket fit direct parts vivaselecta bottom and armhole. Neck need to knit deeper than necessary. The scheme is attached. After you have linked and styles all items, crochet you need to lift the loop on the edge of the neck and sleeves, and to add length spokes gum. To impose closure strips SC, with one hand the buttons are sewn on with other operate.
For brooch, you must take special his tie and then attach the already obtrusive flowers and twig. The flowers are knit in the usual way: in a slip ring have knit the required number *SC, 3ссн, SC*.
Thank you for your attention and interest.
Scheme knitting jacket: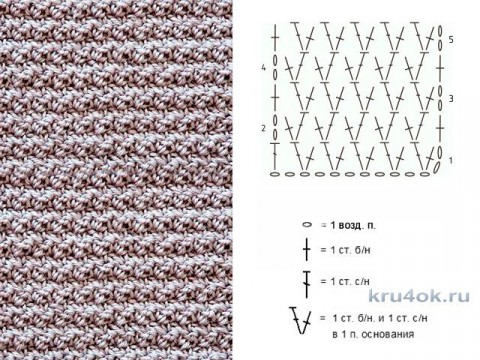 The pattern of the skirt: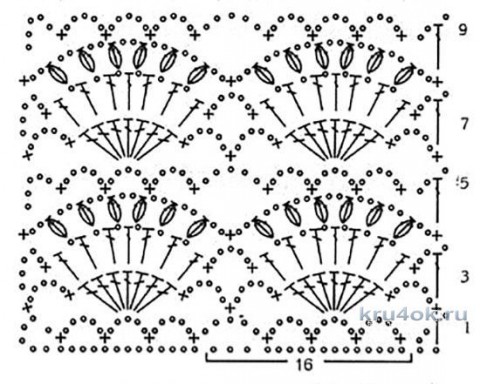 Post author